Educational Resources
for families and service providers of children who have both a hearing and a vision loss:
complete-edservice-guidelines_db.pdf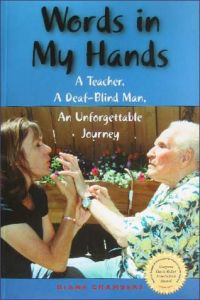 Words in My Hands, A Teacher, A Deaf-Blind Man, An Unforgettable Journey
Bert Riedel, an eighty-six year-old deaf-blind pianist, cut off from the world since age forty-five, discovers a new life through tactile sign language. This is a heartwarming narrative about the life changing power of american sign language communication told by Diane Chambers, Bert's sign language teacher. Diane finds her world transformed as well by her relationship with her unique student. Words in My Hands is the true story of their unforgettable journey.
Available in print, or on CD for use with screen reading software. Also available as e-book on Kindle!
ISBN 9760967-0-6, Words in My Hands is $15.95 in soft cover, 263 pages and includes photographs. Available online at http://www.ellexapress.com or at the following bookstores: Harris Communications, Eden Prairie, MN, Barnes & Noble, Amazon or Kindle.