Lt. Col. John H. Dale Sr. Distinguished Lecture Series in International Security and Global Policy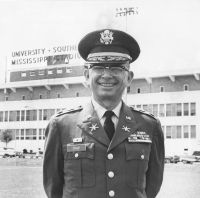 Lieutenant Colonel John H. Dale was a career member of the military who served in World War II, the Korean Conflict, and the Vietnam War and was awarded the Bronze Star. He graduated with his Masters of Science from Southern Miss, later served as Professor of Military Studies for the University's Reserve Officer Training Corps (ROTC) program, and also served as a faculty member in the Science Education department. The lecture series which honors him allows the Center for the Study of War and Society to host a significant speaker in the field of International Security every other year.
The lecture series is made possible through a generous donation by Southern Miss alumna, Dr. Beverly Dale, in honor of her late father.
In November of 2008, the first speaker in the series was Wyche Fowler, the former U. S. Ambassador to Saudi Arabia who spoke about his experiences and of U.S. relationships in the Middle East as an integral part of the "Breaking the Veils" exhibit on the Middle East.
In October 2010, former Secretary of State Madeline Albright spoke on "The Future of NATO." In 1997, Albright was named the first female Secretary of State and the highest-ranking woman in the history of the U.S. government. She is currently a professor in the Practice of Diplomacy at the Georgetown University School of Foreign Service.
The third installment of the Lecture Series scheduled for spring 2014. Dr. Dale's generosity will allow the Center for the Study of War and Society to continually reach out to the national and regional community by bringing speakers of international repute to Hattiesburg.