Lt. Col. John H. Dale Sr. Distinguished Lecture Series in International Security and Global Policy

Former Secretary of Defense, CIA Director Dr. Robert M. Gates to Speak at Southern Miss, February 6, 2014.
The Dale Lecture is free and open to the public. Ticketed seating is not available; the doors will open at 5:45pm. We advise all attendees to arrive well in advance of the 7:00pm start of Secretary Gates's lecture to be sure to secure seating. For information on transportation for USM students, staff, and faculty, see below.
Dr. Robert M. Gates, who previously served as U.S. Secretary of Defense and Director of the Central Intelligence Agency, will be the guest speaker for The University of Southern Mississippi's Lt. Col. John H. Dale Sr. Distinguished Lecture Series in International Security and Global Policy on Thursday, Feb. 6 at the Saenger Theatre in downtown Hattiesburg.
The lecture series, a program of the Southern Miss Center for the Study of War & Society (CSW&S), was created to inform and expand the global awareness of the Southern Miss community and the citizens of the Gulf South region. The lecture, set to begin at 7 p.m., is free and open to the public.
"The Dale Lecture Series is a superb example of Southern Miss's dedication to providing the lessons in leadership that our students need to successfully meet today's global challenges," said series coordinator Dr. Susannah J. Ural, co-director of the CSW&S and the Blount Professor of Military History at Southern Miss.
A former president of Texas A&M University, Gates currently serves as chancellor of the College of William & Mary. He has also been elected future president of the Boy Scouts of America. Gates, a Kansas native, received his bachelor's degree from the College of William & Mary, his master's degree in history from Indiana University and his doctorate in Russian and Soviet history from Georgetown University.
Gates served as the 22nd Secretary of Defense from 2006-2011 under Presidents George W. Bush and Barack Obama. Prior to that appointment, he served nearly 27 years in the CIA and the National Security Council. On Gates' last day in office, President Barack Obama awarded him the Presidential Medal of Freedom – the country's highest civilian honor.
"Robert Gates' vast knowledge and recognized ability to inspire audiences to critically consider their place in an ever-changing world makes him an ideal speaker for our lecture series," said Ural.
The Dale Lecture Series is funded through the generosity of Southern Miss alumna Dr. Beverly Dale in honor of her father's service as Professor of Military Science, Head of the Department of Military Science and Head of the ROTC Program at USM from 1957-61 and 1964-66. Lt. Col. Dale was a veteran of World War II and the Korean Conflict.
"In about 2006 or 2007 I was looking for something at USM I could support to honor my father," said Beverly Dale. "During the process of trying to decide what to do, I met General (Buford) "Buff" Blount, a distinguished serviceman and very inspirational fellow. In discussions with him I came to see that essentially he and I share the same vision of understanding better when one goes to war what the aftermath is going to be and how it can be handled more effectively."
"Robert Gates seems a perfect fit for the lecture series," added Dale. "He really is viewed as a very distinguished statesman rather than a politician. He has served his country well. Gates was a man of the troops and cared about the troops and their lives, which I think is also the sign of a great administrator."
The lecture series is organized by the faculty of the CSW&S in cooperation with Dr. Beverly Dale, as well as Major Gen. Blount (U.S. Army, Ret.), another CSW&S key supporter.
For more information about the Dale Lecture Series, contact Ural at 601.266.5004 or susannah.ural@usm.edu
Media Contact: Van Arnold 601.266.5568, Hattiesburg, van.arnold@usm.edu
USM Community Transportation:
The City of Hattiesburg is providing trolleys to shuttle university members from USM to the Saenger Theater and back again. Please see the schedule below. These trolleys are NOT handicap accessible. If any USM student, staff, or faculty member needs handicap accessible shuttle service to the Dale Lecture, please contact Susannah Ural at 601.266.4333 to make arrangements.
Trolley schedule:
Before the Dale Lecture:
Pickup location: Lucas Admin Building, USM Hattiesburg Campus
Pickup time: 5:45pm and 6:15pm
Drop off location: Saenger
Drop off time: 6:00pm; 6:30pm
After the lecture:
Pickup location: Saenger
Pickup time: 8:30pm; 9pm
Drop off location: Lucas Administration Building, USM Hattiesburg Campus
Drop off time: 8:45pm; 9:15pm
About Robert Gates
On Dec. 18, 2006, Dr. Robert Gates was sworn in as the 22nd Secretary of Defense. Two years later, he was asked by President Barack Obama to remain in that position, making Gates the only man to serve as Secretary of Defense for two presidents from different parties. Gates has dedicated more than 30-years to government service, starting as an entry-level analyst in the Central Intelligence Agency and rising to the Directorship of the Agency from 1991 to 1993, a career trajectory unmatched in CIA history. He served as Deputy Director of Central Intelligence from 1986 until 1989 and as Assistant to the President and Deputy National Security Adviser at the White House from January 20, 1989, until November 6, 1991, for President George H.W. Bush. In 1967 he was commissioned a second lieutenant in the U.S. Air Force and served as an intelligence officer at Whiteman Air Force Base in Missouri. He is the author of the book: From the Shadows: The Ultimate Insiders Story of Five Presidents and How They Won the Cold War published in 1996. Gates's latest book, Duty: Memoirs of a Secretary at War, will be released in January 2014 by Alfred A. Knopf.
Past Lectures: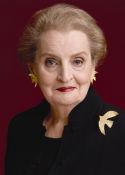 In November of 2008, the first speaker in the series was Wyche Fowler, the former U. S. Ambassador to Saudi Arabia who spoke about his experiences and of U.S. relationships in the Middle East as an integral part of the "Breaking the Veils" exhibit on the Middle East.
In October 2010, former Secretary of State Madeleine Albright spoke on "The Future of NATO." In 1997, Albright was named the first female Secretary of State and the highest-ranking woman in the history of the U.S. government. She is currently a professor in the Practice of Diplomacy at the Georgetown University School of Foreign Service.
The third installment of the Lecture Series scheduled for spring 2014. Dr. Dale's generosity will allow the Center for the Study of War and Society to continually reach out to the national and regional community by bringing speakers of international repute to Hattiesburg.


The Lecture Series and Lieutenant Colonel John H. Dale, Sr.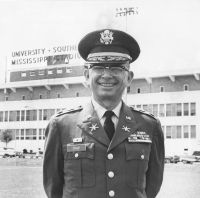 Lieutenant Colonel John H. Dale, Sr. was a career member of the military who served in World War II and the Korean Conflict, and was awarded the Bronze Star. He graduated with his Masters of Science from Southern Miss, later served as Professor of Military Studies for the University's Reserve Officer Training Corps (ROTC) program, and also served as a faculty member in the Science Education department. The lecture series which honors him allows the Center for the Study of War and Society to host a significant speaker in the field of International Security every other year.
The lecture series is made possible through a generous donation by Southern Miss alumna, Dr. Beverly Dale, in honor of her late father.