The 2018 AIM Award Recipients

The Arts Institute of Mississippi (AIM) at The University of Southern Mississippi, announced the recipients for this year's AIM Awards, established to salute and honor the achievements of outstanding high school-level arts teachers and organizations throughout the state of Mississippi.
Congratulations to the recipients of the 2018 AIM Awards, who are making an impact through exemplary achievements in arts education. The recipients are:

Angela Heise, Art Teacher/Fine Arts Dept. Chair at St. Martin High School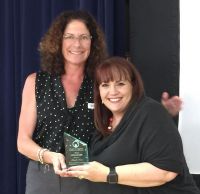 Angela Heise has a B.A. in Art Education & M.Ed both from William Carey University. An art teacher for St. Martin High since 1999, she is Advanced Placement certified and has served as the Fine Arts Department Chair since 2001. Under her leadership, the St. Martin High School curriculum has expanded to include photography, 3D art, painting, sculpture, and other courses in the performing arts.
The principal of St. Martin High School said of Heise:
"It is because of Mrs. Heise that St. Martin High School has an AP art program. She works with talented art students all year putting together a portfolio that truly represents who they are as artists. These portfolios have landed students admission to many schools of art." She added, "Mrs. Heise understands that she has a responsibility to help students to become college ready."
Heise's successful approach to education has earned her the Good Will Citizen of the Year Award, Mississippi Association of Gifted Students Parent Advocate of the Year, the Leo W. Seals Education Award, and Teacher of the year for both St. Martin High & Jackson County School District.

Jennifer Butler, English Teacher at Pass Christian High School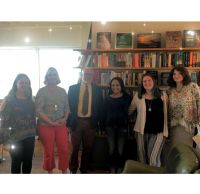 Jennifer Butler graduated from Temple University in Philadelphia, Pennsylvania with a Bachelor of Science in English Education, and received a Master's of Education at William Carey University. 
Butler's teaching career has spanned twenty plus years, in both public and private schools at the secondary level, ten of which have been at Pass Christian High School. Butler's advocacy for the arts reaches beyond the classroom in her work with the National Writing Project as a teacher consultant, summer institute co-director, and lead teacher.
Butler has introduced students and teachers to the practice of creative writing through the Live Oak Writing Project, an affiliate of the National Writing Project, as she conducts professional development opportunities and trainings for teachers at high schools and summer institutes across the Gulf Coast area.
Butler's letters of nomination demonstrate the impact that she has had on her students. In the words of one of her students: "Mrs. Butler is the most dedicated teacher I've ever had, and without her I wouldn't have discovered my love for creative writing and poetry. For almost three years, she has guided me in my writing and pushed me to make every piece better than the last. She motivates me to be and do more than anyone expects of me—both inside and outside of school."
A colleagues adds, "In a time of high stakes standardized testing, Mrs. Butler works beyond the expected to promote the love and practice of creative writing in her classroom and community. This work has a direct impact on her students and her fellow teachers—bringing both joy and recognition."

Carrie Culpepper Brown, Dance Teacher at McComb (MS) School District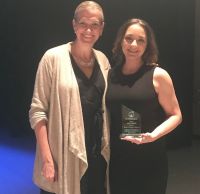 Carrie Culpepper Brown, a Southern Miss alumna, earned her B.F.A. in Dance (Dance Licensure) and has been teaching in the McComb School District for multiple years. Brown's endeavors in the past 10 years include starting dance programs at Higgins Middle School, Denman Junior High, and McComb High School.
These programs have given studentsin rural areas of Mississippi, who may not have the opportunity to dance at studios, the chance to instead dance in their school programs.
Brown is a member of the "Partners in Education" community group in McComb, and she was named the McComb School District Teacher of the Year in 2013-14.

Pierrdro Gallion, Director of Choral Activities at Murrah High School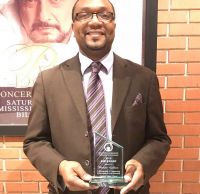 Pierrdro Gallion began his undergraduate studies at Southern Miss and holds a B.A. in Music Education from Jackson State. Gallion also earned Master's degrees in Administration and Music Education and a Specialist in Educational Leadership.
Gallion has taken the Murrah High School Choral program to new heights: The Murrah Concert Singers have won numerous awards on the district, state, and national levels. The choir has completed 5 years of competition with all superior ratings and invitations to honor choir festivals throughout the United States, Canada, Germany, and Austria, and is currently preparing to tour Italy.
In the words of one of his students, "Mr. Gallion is my role model, mentor, and father figure, and the amount he gives to his students is extremely admirable. It is because of his leadership that I have grown as a human being, leader, and musician. He has magnified my love for music to such a great extent that I now plan to pursue Music Education in hopes that I will impact students—to the extent that he has impacted me."
Gallion's recent awards include: 2015-2016 Teacher of the Year and the 2017 Music Educator of the Year by the National Federation of High Schools.

Ida Mitchell, Director of Bands at the Stone County School District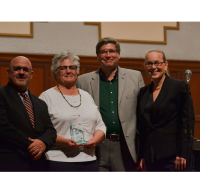 Ida Mitchell, Director Bands for the Stone County Schools, is a 33 year veteran music educator. Before moving to Stone County, Mitchell served 23 years in the Mississippi Association of Independent Schools.
Bands under Mitchell's leadership have consistently received superior ratings in concert, sight-reading and marching, including Best in Class and Best in Show awards at both state and regional levels. Also, the marching band is a perennial MHSAA/MBA 5A State Marching Championship Finalist and has been recognized as a Mississippi Bandmasters Association Sweepstakes Winner for multiple years.
Her professional affiliations include Mississippi Bandmasters Association, Phi Beta Mu International Bandmaster's Fraternity, the National Band Association and the National Association for Music Education.

Jorge Gonzalez, Hattiesburg Public School District Strings Program Supervisor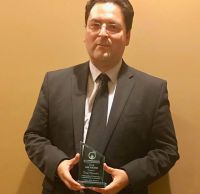 Jorge Gonzalez, a Southern Miss alum, is the Strings Program Supervisor of the Hattiesburg Public School District and a conductor/violinist who has played in numerous regional orchestras. The Hattiesburg Public Schools' orchestra program is one of only eight string programs in the state of Mississippi. The program continues to grow each year and now has over 300 students participating district-wide.
Gonzalez is also the Artistic Director of the Southern Mississippi Youth Orchestra and of the FestivalSouth Academy Symphony Orchestra, and has guest conducted for numerous premiere orchestras. The Orchestral Academy has gained national and international recognition by the international GRAMMY award winners and world-class guest artists who have come to teach and perform at the festival in the last 8 years.
As the founder and director of such organizations, Gonzalez has been instrumental in the development and progress of higher standards for the strings students in the entire state of Mississippi.

Suzanne Allmon, Theatre Director at Oak Grove High School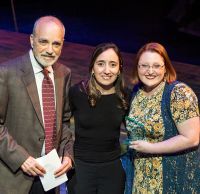 Suzanne Allmon, has been  the director, producer, choreographer, and costume maker at Oak Grove High School for the past 21 years—directing over 150 productions. Allmon also serves as the Chair of the Fine Arts Department. The Oak Grove High School Theatre program, under her leadership, has been selected four times (1994, 2004, 2009, and 2017) to attend the American High School Theatre Festival, the largest and most prestigious festival in the world—a tremendous opportunity for her students as only 35 programs out of 16,000 schools nominated were chosen for the honor.
Allmon has earned prestigious accolades, including the Thad Cochran Distinguished Arts Educator in Theatre in 2010 and the Alan R. Barton Award for Excellence in teaching in 2013.