PARTNERS FOR THE ARTS EVENTS
Every year, Partners for the Arts aims to fund projects that enhance the arts, promote arts education for all ages, and support access to regional, national, and international arts events and artists. This past year, we were able to provide once-in-a-lifetime educational opportunities thanks to your financial support. Read more about the projects and events Partners for the Arts was able to underwrite for 2018-19 below.
Supported

23 Art Projects and Events

Allocated

$34,000

Click + to expand for details:
School of Performing and Visual Arts
School of Performing and Visual Arts Presents Inaugural Revelry Event: A Multi-arts Project that Boasts Over 40 Events in 9 Days

Faculty Sponsor | Stacy Reischman Fletcher
Awarded | $2,500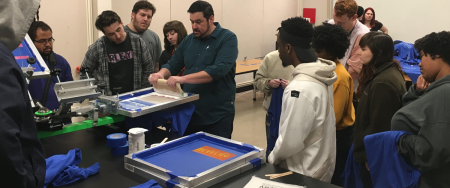 Southern Miss School of Performing and Visual Arts presents its inaugural Revelry event, a multi-arts project that boasts over 40 events—dedicating nine days to special programming of artistic and creative activities, including master classes, workshops, guest and visiting artists, family-friendly events, and formal productions. Revelry revealed the behind-the-scenes in the classrooms, studios, and rehearsals of USM through open observation times and tours.
Art and Design
Southern Miss Art and Design Home to One of the Best Ceramics Exhibitions in the Southeast
Faculty Sponsor | Mark Rigsby
Awarded | $1,500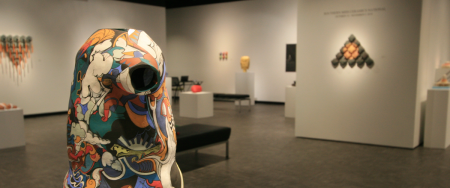 The 2018 Southern Miss Ceramics National is a national juried biennial exhibition of ceramic sculpture and contemporary pottery forms created by some of the top-ranking artists from across the country. This month-long exhibition included the gallery exhibition—featuring 65 works by 48 artists from 23 states cross the U.S.—an awards ceremony, a lecture presentation by renowned artist Anthony Stellaccio, and a ceramics workshop and studio demonstration by artist Benjie Heu. The Ceramics National Exhibition's goal is to enhance the education of art students and broaden their understanding and appreciation of the contemporary ceramic arts, and at the same time, provide a rich and unique gallery experience for members of the local and surrounding communities.
USM Visiting Professional Series Brings Highly Regarded Visual Arts Professionals to Campus
Faculty Sponsor | Allen Chen
Awarded | $1,500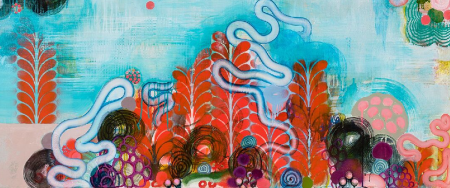 Southern Miss Art and Design Visiting Professionals Series brings four to five art professionals each year including active visual artists, art historians, and other art authorities to Southern Miss for the purpose of presenting public lectures, workshops, formal critiques and practical art experiences to students. The series enhances the program's offerings in drawing and painting, sculpture and ceramics, graphic design, and art history. Ultimately, its goal is to enrich the discussion and understanding of the visual arts at USM and the greater Hattiesburg community. This series did not disappoint with highly regarded visual arts professionals from New York painter, Sarah Lutz to graphic designer, writer, and co-founder of UnderConsideration LLC, a graphic design firm and publishing enterprise, Bryony Gomez-Palacio.
Four New Sculptors Selected for Biennial Exhibition Beautify the USM campus
Faculty Sponsor | Jennifer Torres
Awarded | $1,500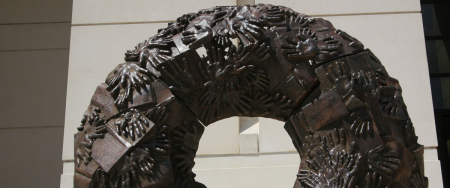 Southern Miss Art and Design installed four new sculptures for its biennial exhibition, selected by a blind jury process, featuring the work of artists Chris Wubbena, Phil Proctor, Kristen Tordella-Williams, and Noah Kirby. The USM Outdoor Sculpture Exhibition Lecture Series is a show of large-scale outdoor work featuring nationally recognized sculptors. The artists featured in this exhibition are the epitome of what students should aspire to be.
Creative Writing
The Visiting Writers Series Presents First Latino Recipient of Prestigious Yale Younger Poets Prize
Faculty Sponsor | Dr. Adam Clay
Awarded | $2,500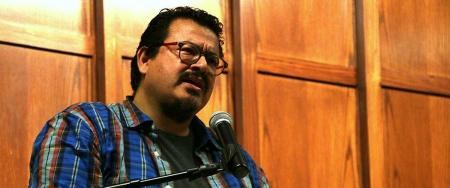 The Visiting Writer Series by the Southern Miss Center for Writers presents Eduardo C. Corral. Corral's debut collection of poetry, Slow Lightning (2012), who won the prestigious Yale Younger Poets Prize, making him the first Latino recipient of the award. Corral teaches in the MFA program at North Carolina State University in Raleigh and is currently a Hodder Fellow at Princeton University. The Visiting Writers Series is a dynamic opportunity for students to not only hear from nationally recognized authors, but also to directly engage with writers in unique workshops.
Dance
USM Dance Students Create a Neo-Jazz Dance Choreography with Guest Artist
Faculty Sponsor | Kelly Lester
Awarded | $2,000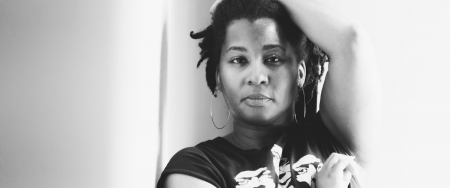 USM Dance welcomes renowned dance artist and educator Melanie George and her "Jazz Is..Dance Project," which focuses on the dissemination of jazz dance education, choreography, performance, and scholarship. The guest artist residency included master classes in jazz, musical theatre and dance dramaturgy, and a special topics lecture titled "Kind of Blue: The Evolution, Colonization, and Survival of Jazz Dance." George created a new neo-jazz dance for USM Dance majors that was performed in the Spring Dance Gala Concert. The residency allowed students to engage in the scholarship and performance of dance, and expands past the offerings at Southern Miss of modern and ballet genres of dance.
USM Dance Brings Renowned International Tap Master and Creator of "Tap Academy"
Faculty Sponsor | Julie Hammond
Awarded | $1,500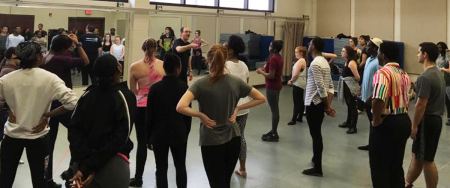 "The Rhythm, Music, History, and Pedagogy of Tap Dancing" residency brings renowned international tap master and performer Steve Zee to Hattiesburg. Based in Los Angeles, Zee is heralded as a tap master and has received national grants and awards affirming this, in addition to being an international artist-in-residence. Zee is also the creator of "Tap Academy," which seeks to provide the highest quality tap instruction online, for both teachers and students alike. His visit culminated with his special performance in the USM Dance Gala.
Hub Dance Collective Continues to Enhance the USM Dance Program in its Sixth Annual Series
Faculty Sponsor | Elizabeth Lentz-Hill
Awarded | $1,500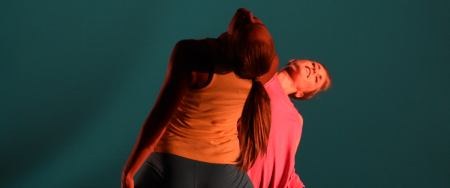 Hub Dance Collective's (HDC) sixth annual summer concert series enhances the dance program's mission to bring dance experiences to the community through performance and education. This year's HDC performances celebrated the recently forming USM School of Performing and Visual Arts by featuring dance works created in collaborations between faculty artists in the programs, including art and design, theatre, and dance. HDC is a contemporary dance collective formed by dance faculty, including Kelly Ferris Lester, Stacy Reischman Fletcher, Brianna Jahn, Lauren Soutullo Smith, and Julie Hammond, as guest artist. HDC serves as the only professional contemporary dance company in Southern Mississippi.
Music
The Connoisseur's Chamber Music Series Presents the Finest Performances of Chamber Music Repertoire
Faculty Sponsor | Dr. Kimberley Davis
Awarded | $2,500
The Connoisseur's Chamber Music Series has been dedicated to bringing nationally and internationally known performers. The series consists of a variety of chamber ensembles performing music from all genres and stylistic periods. This year the series featured renowned chamber music ensembles such as the Brentano Quartet, Jovino Santos Neto and his Quinteto, WindSync, Presidio Brass, O Sole Trio, and the Texas Guitar Quartet. Additionally, each of the ensembles were able to perform a recital, conduct master classes on the USM campus, and provide an educational outreach program to students in Hattiesburg and its surrounding communities.

2019 Trombone Day Welcomes Trombonist of the Milwaukee Symphony Orchestra as Guest Artist
Faculty Sponsor | Dr. Ben McIlwain
Awarded | $1,000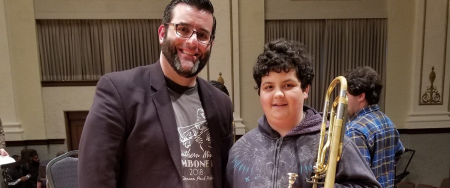 The world-renowned trombonist, Megumi Kanda, principal trombone of the Milwaukee Symphony Orchestra, was the guest artist of the 2019 Southern Miss Trombone Day. Kanda's visit included a solo recital, a master class, a lecture, and a performance with the Southern Miss Trombone Choir. A leading musician and master pedagogue in the trombone community, Kanda has performed in recital and as a soloist across the United States, Europe and Asia, including with the Milwaukee Symphony Orchestra, Pershing's Own Army Band, the US Army Field Band, and the Prague Chamber Orchestra. Trombone Day attendees included over 50 trombonists from Louisiana, Mississippi, Alabama, Florida, and Georgia.
The Southern Miss Cello Festival: An Event like No Other in the Region
Faculty Sponsor | Dr. Alexander Russakovsky
Awarded | $1,250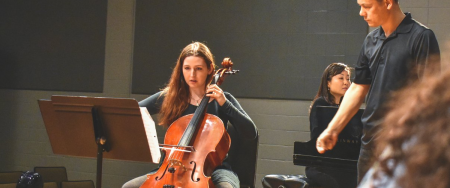 The 2019 Southern Miss Cello Festival featured master classes and recitals from internationally recognized guest artists, Hilary Glen, instructor of cello at The University of Alabama and Bion Tsang, professor of violoncello at The University of Texas in Austin. To cap-off the Festival, the guest artists took the stage to perform with USM students. This unique event engaged patrons of all ages and social backgrounds, from classical music connoisseurs to public school students.
Students From Across the Region Gather for Choral Conference with Renowned Guest Clinicians
Faculty Sponsor | Dr. Greg Fuller
Awarded | $2,000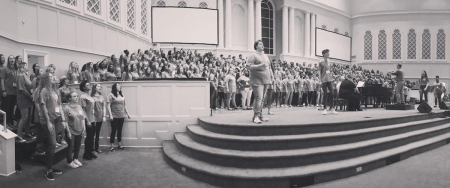 The 15th Annual Southern Invitational Choral Conference (SICC) at Southern Miss provided students the opportunity to take part in intense rehearsals and high-quality performances, while meeting fellow musicians from all over the Southeast. Also, at SICC, students had the opportunity to audition for choral scholarships at Southern Miss, and teachers can earn continuing education units (CEUs) by attending various sessions. The Southern Miss Showcase Concert featured the Southern Chorale, the Concert Choir, the Spirit of Southern, and the BelleTones. It was followed by performances featuring SICC Honor Choirs, including both the high school and junior college students from the surrounding region, and conducted by guest clinicians Dr. Kenny Potter and Dr. Jonathan Rodgers.
The Sounds of the Season Reverberate Throughout the Sanctuary with the Holiday Choral Spectacular
Faculty Sponsor | Dr. Michael Miles
Awarded | $500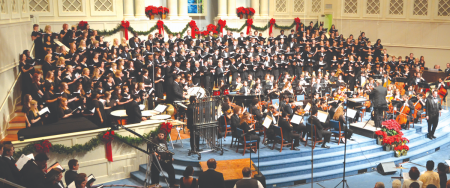 The USM Symphony Orchestra is joined by the Hattiesburg Choral Union, which represents all the major choral ensembles from the University at Main Street Baptist Church for a majestic evening of music that spread the holiday cheer with classics like "It's the Most Wonderful Time" and "Hark! The Herald Angels Sing." In addition, students from Petal Middle School, Purvis Public Schools, Columbia Public Schools, and the 3-D School in Petal joined the Chorus for the grand finale. This year, Laurel native and nationally recognized composer, James Mulholland, was one of the special guest artists.
Tony Award-winning "The Drowsy Chaperone" Took the Stage at USM
Faculty Sponsor | Dr. Michael Miles
Awarded | $1,500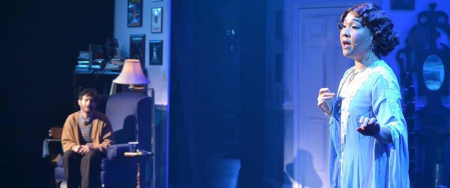 The Southern Opera and Musical Theatre Company (SOMTC), that brought audiences Disney's Mary Poppins and The Phantom of the Opera at Southern Miss, took the stage with the five time Tony Award-winning production, The Drowsy Chaperone. The Broadway hit is a parody of American musical comedy of the 1920s, and was directed by the team from last year's The Phantom of the Opera including, Dr. Mike Lopinto, director; Michael Miles, music director; Ryan Anthony, choreographer; and Tammy Mansfield, assistant director and costumes.
99th season of the USM Symphony Orchestra Opens with Tribute to Leonard Bernstein
Faculty Sponsor | Dr. Michael Miles
Awarded | $500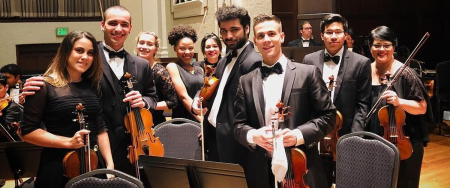 The 99th season saw the venerable symphony pass the baton to Dr. Michael Miles, interim director of orchestral activities, and pay homage to a variety of composers, performers, conductors and cultures with its 2018-19 season titled, "Tribute." Kicking off with an Opening Night Gala to celebrate the greatest American-born musician, Leonard Bernstein, in honor of the 100th anniversary of his birth. The program for the evening honored his contributions as a composer, performer, and teacher by featuring his own compositions, works that he loved to perform, and the final symphony he conducted at his beloved Tanglewood.
USM Symphony Orchestra Features Concerto Competition Winners in its "Future Stars Goes Pops!" Concert
Faculty Sponsor | Dr. Michael Miles
Awarded | $500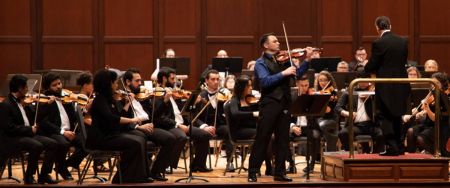 Honoring the memory of William T. Gower, this annual concert celebrates the winners of the concerto competition in performance with the USM Symphony Orchestra. This year's winners included, Rodrigo Lara Alonso performing Brouwer's Concerto Elegiaco, Melissa Peraza with Forsyth's Viola Concerto No. 2, and Juan Correa Ruiz with Glazunov's Violin Concerto in A minor, Op. 82. This concert provides an opportunity for the School of Music students to appear in a solo capacity with the orchestra and showcases their exceptional talent.
Guest Artist for USM 2018 Viola Festival Boasts an International Reputation
Faculty Sponsor | Dr. Hsiaopei Lee
Awarded | $1,250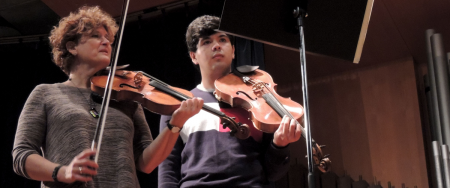 The USM 2018 Viola Festival, in collaboration with Gulf Coast Viola Society, presents a number of viola master classes, lectures and concerts on campus. This year's featured guest artist was a highly regarded educator and pedagogue, Jodi Levitz, professor of viola at the Frost School of Music at the University of Miami. The festival provides educational and outreach programs for local schools and pre-college students, and aims to promote viola music to a new group of string music listeners.
USM Clarinet Day 2019 features Renowned Performer, Educator, and Clarinet Professor
Faculty Sponsor | Dr. Jacqueline McIlwain
Awarded | $1,250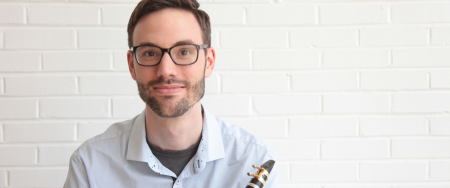 Clarinet Day 2019 featured guest artist Jeff O'Flynn, assistant professor of clarinet and woodwind area coordinator at Utah Valley University. He performs as principal clarinet of the Queen City Chamber Opera and has appeared with the Cincinnati Symphony, the Cincinnati Opera, the Utah Regional Ballet, and the Richmond Symphony, among other groups. This residency intends to expose students to internationally recognized musicians and attracts numerous clarinetists from the area, ranging from middle schoolers to local armatures. Clarinet Day features a mass clarinet choir, vendors from around the country, recitals, and several master classes.
Southern Flute Festival Presents its Sixth Edition with Distinguished Flute Pedagogues
Faculty Sponsor | Dr. Danilo Mezzadri
Awarded | $1,250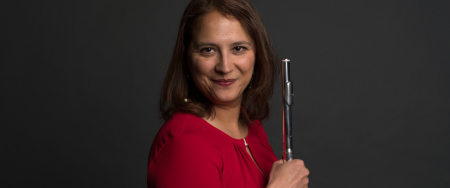 The Southern Flute Festival (SFF) provides artistic education and entertainment to a broad population of flute enthusiasts living in the Gulf Coast region. Internationally renowned artists and pedagogues gather at Southern Miss to enjoy two days of flute music, participate in master classes and workshops, attend professional recitals and perform in the festival's flute choir. The Southern Flute Festival's sixth edition featured Katherine Kemler, the Charles and Mary Barré Alumni professor of flute at Louisiana State University; Jennifer Lau, on the faculty of The University of New Mexico; and USM Alumnas Chrissie Davis, a musician and educator, also known as classical crossover recording artist, Christopher Leigh; and Geraldine Padilla, DMA in Flute Performance and Pedagogy.
Multi-week Arts Festival, FestivalSouth, Kicks Off Ninth Season
Faculty Sponsor | Dr. Mike Lopinto
Awarded | $500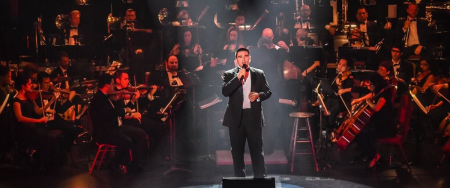 FestivalSouth returned with an unprecedented line-up of events, performances, and presentations for its ninth season. With approximately 20,000 participants each year, this project transcends socio-economic lines through its varied schedule of events and wide appeal, including Coffee Concerts, FestivalClassical Headliners and Afternoon, Musical Theater and Broadway Headliners, and the FestivalSouth Orchestral Academy. By developing a rich and vibrant cultural economy, it boosts social and economic growth of the region making Hattiesburg an attractive place for students, businesses, and retirees to call home. Furthermore, this multi-week arts festival, presented by the Hattiesburg Concert Association, nourishes a workforce that supports the employees and graduates of Southern Miss.
Theatre
Tony Award-winning Musical and Timeless Masterpiece "Cabaret"
Faculty Sponsor | Stacy Reischman Fletcher
Awarded | $1,000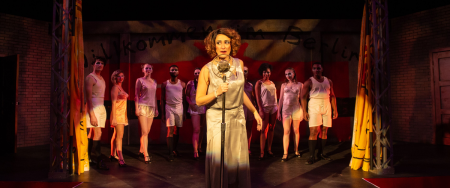 Based on the book by Joe Masteroff, with music by John Kander and lyrics by Fred Ebb, Cabaret is about the burlesque performers from the infamous Kit Kat Klub, where patrons come to escape and leave their troubles behind as the Nazis begin their rise to power in the 1930s. Although the show is set in 1932, the production is contemporary and extremely relevant. The way the characters deal with the rise of tyranny has timeless meaning; they seek to survive for the future. The production featured some of the most memorable songs in theatre history, including "Cabaret," "Willkommen" and "Maybe This Time." The allocated funds provided musical support for Cabaret.
Circumnavigating Southern Arena Theatre's 42nd Season
Faculty Sponsor | Stacy Reischman Fletcher
Awarded | $3,000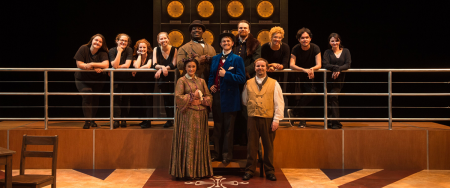 Southern Arena Theatre (SAT), circumnavigates its 42nd active year with Improv Comedy Club and the delightful production of Marc Brown's Around the World in 80 Days, adapted from the world-famous adventure-novel by Jules Verne. In the play, 5 actors portray 39 characters in a race around the world in only 80 days, keeping audiences captivated as the characters journeyed around the globe in a whimsically masterful comedy. SAT is known for its tradition of excellence in entertainment while producing light, summer theatre. The allocated funds provided production support for SAT.
USM Theatre's Production of the Tony Award-winning Classic "Peter and the Starcatcher"
Faculty Sponsor | Stacy Reischman Fletcher
Awarded | $1,500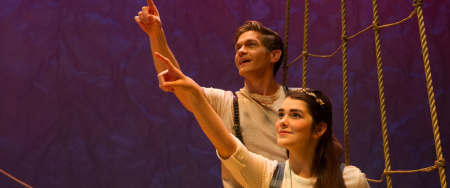 This Tony Award-winning play, Peter and the Starcatcher, with music upends the classic story of how a miserable orphan comes to be Peter Pan! From marauding pirate and jungle tyrants to unwilling comrades and unlikely heroes, Peter and the Starcatcher fully explores the depths of greed and despair, as well as the bonds of friendship, duty, and love. A true theatrical delight for children and adults. The allocated funds provided musical support for this production.