Study Abroad
In conjunction with academic departments at Southern Miss, International Programs send more than 400 students abroad each year. Study abroad programs range in duration from a few weeks to an entire academic year.
With over 35 faculty-led and exchange programs to nearly 20 countries, USM offers students the opportunity to earn academic credit while gaining international experience. See below for programs that offer courses specifically for Biological Science credit.
Click here and here to view videos of past study abroad trips!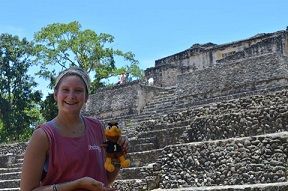 Biology faculty offer exciting opportunities for study abroad through the
Office of Study Abroad
:
Tropical Ecology in Belize and Guatemala: BSC 404/404LCA (5 credit hours)
Lecture for Tropical Ecology meets during the second eight weeks (after spring break), where academic topics in tropical geography, climate, biomes, organisms, ecology, and conservation and not-so-academic topics like health, safety, and appropriate behavior in Belize and Guatemala are covered.
Following the spring semester in mid- to late-May, we travel for two weeks to Belize and briefly to Guatemala, where we study tropical flora and fauna in several different ecosystems: coral reefs, pine savannahs, rainforests, and mangrove swamps. We interact with groups working on the conservation of plants and animals in Central America and with locals who practice subsistence farming.
For more information contact Dr. Mac Alford (JST 308, 601-266-6531) or Professor Michael Sellers (WSB 141, 601-266-6374).
Department of Biological Sciences Study Abroad TREE Scholarship
The Department of Biological Sciences invites any undergraduate and graduate students at USM to apply for our Tropical Ecology in Belize Study Abroad course [BSC 404LCA/BSC 504LCA. If accepted, you are also invited to apply for our TREE Scholarship. Two $500 scholarships will be awarded to deserving students*. Funds will be applied directly toward the cost of the trip to Belize, Central America [approximately $4,400 UG; $4,600 GR]. Students who apply for the scholarship should have already applied with USM Study Abroad and paid the refundable deposit [$250] for the course.
Interested applicants are expected to be in good standing with USM, have a USM GPA >2.9 and have completed BSC 111/L or BSC 103/L with a grade of 'A' or 'B'. Furthermore, applicants should include a one page [minimum] statement illustrating the applicant's reasoning and goals for studying ecology in Belize, as well as future career goals.
For more information contact Dr. Mac Alford (JST 308, 601-266-6531) or Mr. Michael Sellers (WSB 141, 601-266-6374), or visit the USM Study Abroad site here.
The deadline for the TREE Scholarship is January 22, 2018.
Applications should be returned to the Biological Sciences office in JST 720 in a sealed envelope.
In the event the primary recipient[s] cannot go to Belize, backup recipients will move forward on the list.
Additional Information
Department of Biological Sciences - https://www.usm.edu/biological-sciences/undergraduate-scholarships-0
Tropical Ecology Study Abroad - https://www.usm.edu/study-abroad/tropical-ecology-belize
USM Study Abroad Office - 601.266.4344
Study Abroad Programs
The Office of Study Abroad (OSA) at The University of Southern Mississippi offers semester or academic year exchange programs with our partner universities around the world! During an exchange program, you can earn Southern Miss credit & pay Southern Miss in-state tuition while fulfilling your degree requirements. There are opportunities available for Biological Science students at one or more of our partner universities. For more information check out our website at https://www.usm.edu/study-abroad/general-information.
Contact Hannah Jones (Hannah.L.Jones@usm.edu) for more information.
Financial aid is available for study abroad programs. For more details, stop by the Office of Study Abroad [International Center (IC), Room 409] or visit the website at www.usm.edu/study-abroad.