Certiport
Excel & Microsoft Office Certification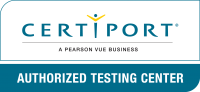 What is Certiport?
Certiport is the company that provides certification processes and testing for multiple companies.
What is GMetrix?
GMetrix is the training software designed and made by Certiport. The College of Business and Economic Development currently has an unlimited license and this program is free to all CBE students, faculty, staff, and alumni. GMetrix self-paced training program that prepares test-takers for the Microsoft Office Specialist Exam.
What's the process?
Acquire the GMetrix access code from Mr. Browning or Ms. Yeend.
Install the GMetrix program on personal device or use the Finance Lab computers. Installation instructions can be found HERE.
Create a GMetrix Account. For technical support, contact GMetrix.
Start GMetrix SMS client on your device, enter the appropriate access code (ask Mr. Browning or Ms. Yeend) to create a test, and pick your product, test bank, and training or testing mode.
Run all three banks to 90% completion in training mode.
Run all three banks to 90% completion in testing mode.
After this, you are now ready to take the actual exam. Most successful test takers claim that 8 hours of preparation time was sufficient.
Register to take the test in Scianna Hall 2046 by emailing Patrick Browning at Patrick.Browning@usm.edu with the subject line: Certiport Registration. The test fee is $60 per attempt (proctor fee included). Payable by cash/check.
ATTENTION MAC USERS: The GMetrix SMS software is intended to run on a windows machine, and at this time there is no Mac version. You will need to run it in a virtualization of Windows Vista, 7 or 8 using software such as Parallels or Fusion, along with the proper version of the Office product you wish to test. For example, you cannot select GMetrix Excel 2010 test under Parallels or Fusion and expect your Mac's Office 2011 or 13 for Mac to launch and run. You would need to have installed Office 2010 within your Fusion or Parallels installation.
For additional troubleshooting, please contact support@gmetrix.com.