About Us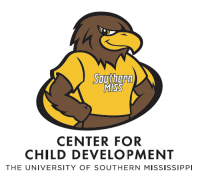 The University of Southern Mississippi Centers for Child Development (CCD) provide high quality education and care services to children 8 weeks to 5 years old, and serve as academic teaching and research facilities for students and faculty across the university.
At both centers, you will find a philosophy that is based on providing opportunities and experiences for the optimal development of each child and family served. Infants, toddlers, and preschoolers are offered a play-based curriculum that promotes optimal development in all domains through developmentally appropriate and meaningful hands-on activities. Parents are welcomed and encouraged to observe and participate in day to day activities, as well as special events. The center believes that guidance is best done through positive guidance techniques and embraces concepts of Conscious Discipline.
The CCD recognizes the importance of helping children belong to the global community. Curriculum and practice at the CCD reflect a commitment to an anti-bias, multicultural education. The CCD embraces the social differences that enrich our community and enrolls children regardless of race, ethnicity, or special needs.
Both the Hattiesburg and Gulf Coast campuses are accredited by the National Association for the Education of Young Children (NAEYC). This status is afforded to approximately 10% of childcare facilities in the United States and reflect standardized care that is considered best practice in the early childhood profession.
Hattiesburg
Gulf Coast
Director
Stephanie Haney
Melissa Weaver
Address

3400 Morningside Drive

Hattiesburg, MS 39401

205 Leovy Avenue

Pass Christian, MS 39571

Hours of Operation

7:30am to 5:30pm Monday through Friday

6:45am to 5:30pm Monday through Friday
Phone Number

(601)266-5294

(228)452-5210
Fax Number

(601)266-6009

(228)452-5211
Are you currently a USM student?

CCAMPIS (Child Care Access Means Parents In School) is a grant through the U.S. Department of Education that helps parents meet their goal of securing a postsecondary education by providing campus-based child care services at The University of Southern Mississippi's Centers for Child Development (CCD). Each month, CCAMPIS families receive subsidies towards their children's tuition. The amount awarded to each family depends on income, enrollment status, and parental stress levels. The goal of CCAMPIS is for families to receive high quality childcare from the CCD at a greatly reduced rate, allowing them to better focus on their education and complete their degree in a timely manner. For more information concerning the CCD in Hattiesburg contact Stephanie Haney at Stephanie.Haney@usm.edu or for the CCD on the Gulf Coast, contact Melissa Weaver at Melissa.Weaver@usm.edu.