Orientation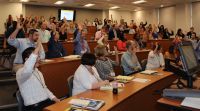 New Faculty Orientation (NFO) will take place on August 23 and 24, 2018. Hosted by the Center for Faculty Development, this event will provide new faculty with essential information for starting the academic year. At NFO, new faculty members will learn about important policies and offices, participate in workshops on topics relevant to their immediate needs, and talk with administrators and current faculty about any questions they have.
On Thursday, August 23, all new faculty members will meet on the Hattiesburg campus in Scianna Hall beginning at 8:15 am and ending with a reception that evening.
On Friday, August 24, new faculty will continue the NFO on their home campus, either Gulf Park or Hattiesburg. Faculty may get tours of their campus, talk with the librarians about services provided by the University Libraries, and engage in activities to support instruction.
If you have any questions, please contact Bonnie Cooper, Center for Faculty Development Coordinator, at bonnie.cooper@usm.edu or by calling 601-266-4688.
Orientation Schedule
Day 1: Thursday, August 23, 2018 - Hattiesburg & Gulf Park

8:15 am

Registration and Coffee

Scianna Lock Commons

9:00 am

Welcome to USM

President Rodney Bennett

Scianna Hall 1048

9:15 am

Welcome to New Faculty Orientation

Kelly Lester

Scianna Hall 1048

9:30 am

Undergraduate Student Body

Vice Provost Amy Miller

Scianna Hall 1048

10:15 am

BREAK

10:30 am

Group 1—How to SOAR in Week 1

Marlissa Northrop

Scianna Hall 2016

Group 2—Collegiality and Academic Citizenship

Eric Tribunella

Scianna Hall 1015

11:00 am

Group 2—How to SOAR in Week 1

Marlissa Northrop

Scianna Hall 2016

Group 1—Collegiality and Academic Citizenship

Eric Tribunella

Scianna Hall 1015

11:30 am

Campus Safety and the UPD

Chief Bob Hopkins

Scianna Hall 1048

11:45 am

Lunch

Trent Lott Center 103 A/C

1:15 pm

Academic Affairs Overview

Provost Steven Moser

Scianna Hall 1048

1:40 pm – 1:55 pm

Research at Southern Miss

Marcia Landen

Scianna Hall 1048

2:00 pm

Breakout Sessions (choose one)

Grant Management / Research Process
First Day of Class
Interdisciplinary Investigation

Michelle Shows
Hugh Broome, Holly Huye,

Gallayanee Yaoyuneyong

Katie James

Scianna Hall

2:45 pm

BREAK

3:00 pm

Legal "Must Knows" for Faculty

Bob Gholson

Scianna Hall 1048

3:15 pm

Compliance and Faculty Awareness

Paul Walters

Scianna Hall 1048

3:30 pm

ODA, Title IX, AA/EEO, Counseling Center

Scott Dossett, Becky Malley, Pattie Teague, Deena Crawford

Scianna Hall 1048

4:15 pm

Questions / Debrief / door prizes

CFD

Scianna Hall 1048

5:00 pm

RECEPTION – ALL

Trent Lott Center Rotunda
Day 2 Friday August 24, 2018 - Hattiesburg

8:15 am (optional)

Campus tour

Elizabeth Harkins Hall 120

9:00 am

Meet Your Librarian

Research librarians

Elizabeth Harkins Hall 120

10:00 am

3 minute moments:
New Student and Retention Program, Honors College, International Programs, Undergraduate Research, Speaking Center, Writing Center, Pathways Program, Career Services, Center for Community Engagement


Katie McBride, Ellen Weinauer, Daniel Norton, Marie Danforth, Laura Stengrim, Eugene Gordon, Lisa Stevens, Rusty Anderson, Christy Arrazattee

Elizabeth Harkins Hall 120

10:30 am

TEACHING ACTIVITY SESSION:

Workshop Your Syllabus

Bring syllabi with you
Mandatory vs customizable segments
What you should address
Include early graded assignment

OR

Effective Teaching Strategies for Active Engagement

Workshop Your Syllabus

Katie James
Lindsey Wright
Mike Davis

Active Engagement

Jen Regan
Renee Rupp
Mark Miller

Elizabeth Harkins Hall 120

11:15 am

BREAK

Elizabeth Harkins Hall 120

11:25 am

Switch Teaching Activity Session from 10:30 time slot

See 10:30 time slot

Elizabeth Harkins Hall 120

12:30 pm

Lunch

Elizabeth Harkins Hall 120
Day 2 Friday August 24, 2018 - Gulf Park

8:30 am

Coffee/Introductions

Gulf Park Library 204

9:00 am

Campus Tour

9:45 am
Meet with Librarians
Gulf Park Library 204
10:30 am
Staff Introductions

Gulf Park Library 204

11:00 am
Academic Success Center
Gulf Park Library 1st Floor
11::45 am
Lunch with Vice President Gulf Park and Acting Vice Provost Gulf Park
1:00 pm
Our Norms and Values (with all Faculty and Staff)
Hardy Hall Cafeteria