WORKSHOPS
Office of Institutional Effectiveness, Assessment and Accreditation / Office of the Provost
Digital Measures Faculty Data Entry Workshop – Spring 2018
We are pleased to offer optional workshops for faculty to learn more about explore Digital Measures Activity Insight, a toolwhich provides a single entry point for faculty members' teaching, research, service, and other professional activities.
This optional, single-session workshop will begin with an overview of the Digital Measures program, then you will login and begin to enter your own scholarly information in the system. The workshop will be offered several times – and on both the Hattiesburg campus and Gulf Park campus. Additional workshops may be added at a later time based upon faculty requests.
Available Workshop Dates:
Hattiesburg Campus - All workshops will take place in the International Center, Room 317
Thursday, 3/15/2018 from 2:00 - 3:30 pm
Tuesday, 3/20/2018 from 2:00 - 3:30 pm
Wednesday, 3/21/2018 from 9:00 - 10:30 am
Monday, 3/26/2018 from 2:00 - 3:30 pm
Thursday, 3/29/2018 from 9:30 - 11:00 am
Gulf Park Campus – Time and location TBD


REGISTER HERE to attend a session: https://forms.usm.edu/provost/view.php?id=9543
Department of Anthropology and Sociology
Teaching Evolution: Mississippi and Alabama's Report Cards
Evolutionary theory is foundational to multiple disciplines but remains culturally controversial. It is an umbrella under which all other disciplines and explanations for life can be nested, yet many educators avoid teaching it because of potential for community backlash. In this talk, Dr. Chris Lynn of the University of Alabama will explore how Mississippi and Alabama fare in state assessment of student understanding of evolution.
Wednesday, November 8, 2017
10:00 AM
Center for Faculty Development, International Center 319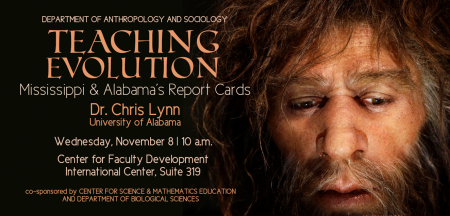 Speaking Center | Writing Center
Open House
The Center for Faculty Development along with the Speaking and Writing Centers will host an informal lunch for junior faculty on November 8th at noon in the Speaking Center workshop room, #114 in Cook Library.
We will discuss how the centers can support speaking and writing throughout students' degree progression, beginning with general education coursework and into upper division discipline-specific courses. We look forward to an informal question and answer session about integrating speaking and writing into course planning, classroom activities, and subject-matter understanding.
Wednesday, November 8, 2017
12:00 noon
Cook Library, Room 114
Registration closed.
Center for Community Engagement / Faculty Workshop
Digital Technology and Service Learning
On Wednesday, October 25, from 12:15 to 1:00 pm in LAB 334, join us for a workshop facilitated by Angel Manning, Vickie Reed, and Joyce Inman, focusing on ways to use digital technology to enhance your service-learning practice.
Angel will be sharing her experiences teaching service-learning online; Vickie will be demonstrating the use of Top Hat software in service-learning classes; and Joyce will be showcasing useful tools in our digital technology toolbox that could be useful to our service-learning pedagogy and practice. The workshop is free to all USM faculty.
Wednesday, October 25, 2017
12:15 pm - 1:00 pm
LAB 334