Prospective Graduate Students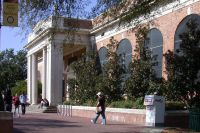 Click on this link to open Recruitment Brochure in PDF format (9.41 MB file size):Recruitment_Brochure-Oct_2014.pdf
On-line applications as well as all other information for graduate admissions can be found by going to the Office of Graduate Admissions link found here.
Departmental assistantships for doctoral students are a minimum of $19,000/yr plus a waiver of all tuition and fees except a fee for health insurance. Some fellowships and assistantships may exceed this stipend amount. No student is admitted without a full assistantship. Students interested only in the masters degree are strongly discouraged from applying to the graduate program.
International students must take the TOEFL and are strongly encouraged to provide evidence of their fluency in spoken English. Most students are admitted as teaching assistants and must be able to communicate fluently in spoken English. Applications from international students require lengthy processing and should be complete by March 1. Interested students should contact the Office of Graduate Admissions directly for more information.