Tutorial Center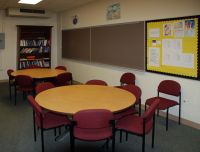 The chemistry tutorial center is in Room 238 of Walker Science Building. A small cluster of computers connected to the internet are available for all chemistry students to use.
The hours of operation are 9 a.m. - 5 p.m., Monday through Friday. See the schedule to find out when a tutor is available. The center will be closed on holidays observed by the university.
Tutorial Center Schedule Spring 2018
To obtain maximum benefit from the time you spend in the center:
Identify yourself by what class you are in and what topic you have a question about.
Ask other students for help; don't wait for a tutor.
Show the tutor work you have done in trying to solve the problem and the material you are using (e.g., class notes, textbook).
Write down important information as you solve the problem.
Review the problem when you are finished.