USM Project SEED
A Summer Research Internship Program for High School Students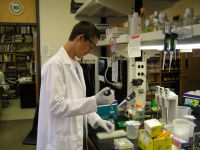 The purpose of American Chemical Society (ACS) Project SEED is to offer high school students a unique opportunity to spend a summer conducting hand-on research with a scientist in a laboratory setting.
Do you like science? Are you interested in learning about what scientists really do in their laboratories? The ACS Project SEED program gives high school students a unique opportunity to spend 8 to 10 weeks in the summer working side-by-side with scientists to conduct hands-on research. Find out how you can get exposure to chemistry, prepare for college, and learn about science career paths.
About Project SEED
Project SEED was established in 1968 to help high school students expand their education and career outlook. The program provides opportunities for students who historically lack exposure to scientific careers to spend a summer conducting hands-on research with a scientist in academic, industry, and government research laboratories. Students receive a fellowship award for their efforts and a chance to receive a SEED college scholarship.
Summer I Program
The Summer I an 8 to 10 week program is for first-time Project SEED participants who are given a scientific research project in chemistry or a related field under the direct supervision of a scientist-mentor and receive a $2,500 fellowship award..
Summer II Program
The Summer II program provides Project SEED Summer I students with an additional summer of scientific research to continue their research or start a new project. Students either continue their research from the previous summer or begin a new research project. These students also receive a fellowship award. Participants receive a $3,000 fellowship award and may be eligible for a travel grant to present their research at ACS or other scientific meetings.
Benefits of Project SEED
Information on career paths
Preparation for college studies
Individual mentoring by SEED scientists
Exposure to other assistance programs
Opportunities to present their summer research at a scientific meeting
Eligibility to apply for a SEED college scholarship
A chance to enhance self-confidence
For 8 to 10 weeks, SEED students have the unique opportunity to work with scientists, who help them develop laboratory, written and oral skills as they discover that they are capable of conducting scientific research. Mentors also provide guidance, encouragement, and letters of recommendation for college.
Professional Networking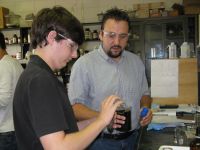 Each fall, SEED students work side-by-side with professional chemists to present their research projects at ACS local, regional and national meetings, and at other scientific meetings. Presenting their summer research findings gives students exposure to chemists, engineers, and college students who review their research and motivate them to pursue science careers.
Read more about USM Project SEED in these News Releases.
Acknowledgements
I would like to give thanks to the Vice President for Research and the Dean of College of Science and Technology for their support of the program. I would also like to thank The University of Southern Mississippi and the Department of Chemistry and Biochemistry for providing the necessary office and laboratory space, as well as the research facilities and knowledgeable faculty and staff that without which, this project could not succeed. In addition, I extend my grateful appreciation for the funding from the American Chemical Society that makes this program possible in the first place.
Contact Information:
Jan Wilkinson
c/o Department of Chemistry & Biochemistry
The University of Southern Mississippi
118 College Drive #5043
Hattiesburg, MS 39406
Phone: 601-266-4701
Email: jan.wilkinson@usm.edu