Info For Employees
Paperless Pay
The University of Southern Mississippi uses a paperless system for all paychecks and pay stub information. All faculty, staff and student employees can receive their pay stub information online.
How Do I View My Paycheck?
The link to SOARHR is
The SOARHR navigation path is: Self Service > Payroll and Compensation > View Paycheck. Here you can view current paycheck and leave balances, as well as past paycheck information. The following pages include screen shots of what you can expect to see. If you have questions, someone in Payroll will be happy to assist you. Just email us at payroll@usm.edu or call 6-4084.
Getting Started in SOARHR
The SOARHR sign-on panel will prompt you to enter information in two fields. Use the tab key to move to the next field.
Click on "Sign In" after entering the data into the specified fields.
USER ID: The SOARHR identification number assigned to you, preceded by a "W".
PASSWORD: The SOARHR password associated with the user ID.
View Paycheck: Self Service > Payroll and Compensation > View Paycheck
Click on "View Paycheck" to view your paycheck and a PDF will open in a new tab that looks like the screenshot below. If you select to view a paycheck that does not have a checkmark in the PDF File column a PDF will not open in a new tab; instead, the check information will display within the current page.
Monthly Time and Attendance
Log in
Start Internet browser.
Enter the SOARHR web address into the address bar https://soarhr.usm.edu.
Enter your User ID and Password. Your user id is the letter "W" plus your 6 digit Employee ID. Example: W123456.
Click the Sign in button.
Enter Monthly Time and Attendance
** Applies to all monthly leave eligible employees
Record Personal Leave (Vacation) and Sick (Medical) Leave Taken
This process will explain how monthly paid employees should enter leave taken for the month. Note: Leave taken should be entered in full-hour increments.
• Employees will have access to enter time by the 1st of each month. (The leave record for January will be available by January 1st for entering the leave taken during the month of January.)
• Employees will have until the 10th of the following month to complete the leave record. (The leave record for January must be completed by February 10th).
• Managers will have until the 15th of the following month to complete approvals. (The leave record for January must be approved by February 15th). See the section titled "Approve Employees Leave Taken".
If an employee does not enter time, or if the time is not approved by the 15th of the following month, there will be a delay in processing. For instance, if an employee's time for January is not entered and approved before the automatic process runs on (approx.) February 20th to calculate the leave balances that will appear on the February paycheck, that leave taken will be included in the run for the next month.
Once a manager approves an employee's time, it can no longer be updated by the employee. However, if the manager un-checks the approval box, then the employee can make changes. Once the changes are made, the manager will then have to go back through the approval process.
After the automatic leave accrual process runs, neither the manager nor the employee can make changes. The employee would need to contact Human Resources to make adjustments if needed.
Navigate to the following path to enter leave taken information.
Self Service > USM HR/Payroll Self Service > Monthly Time and Attendance
This search page can be used to find all available data, only data for a specific month and/or calendar year, or it can also be used to find approved vs. not approved data. The drop down does list all 12 calendar months, however future months are not available to enter time. Historical data is available for review.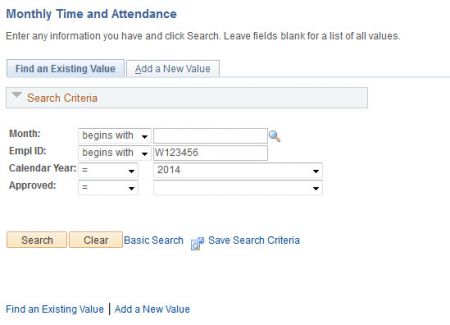 Typically the employee will indicate which specific month and year they wish to enter. If more than one month meets the criteria entered, that information will be assessable via a hyperlink as shown below. Otherwise it will open to the month entered. The information displayed will be for the employee logged into SOAR.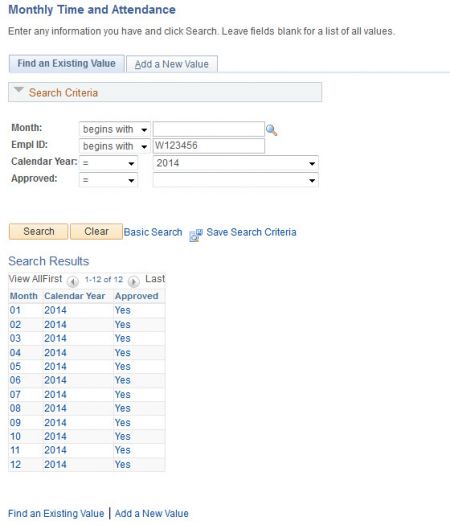 Once a month is selected, an employee will see the following screen, which is then used to enter leave time taken.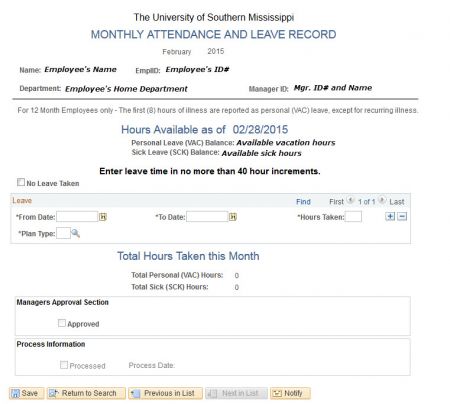 There are variables on how an employee should enter time, but the employee must always save their time entered using the Save Button before it is recorded in the system. The only codes that have to be reported are Personal (Vacation) Plan 51 and Sick (Medical) Plan 50.
If no leave was taken for Personal or Sick, the employee must select the "No Leave Taken" option to indicate to the manager and Human Resources that this month was not skipped or forgotten. Otherwise, the employees name will show up on reports as not having entered their time for that month.
Available leave balances are shown on this page as well. This leave balance does NOT include the hours taken for the month showing. It only reflects hours that were reported, approved and processed before the leave accrual process ran for the date indicated, as well as the hours earned as of the available date.
Manually Adding a Month to Enter Leave
As long as an employee is in the "Active" status in the Human Resources system, a page to enter monthly leave will automatically create. If an employee is in any other status, the employee will need to manually create a page for the month needed.
To do that, the employee should navigate to the Monthly Time and Attendance page (see page 3 for navigation), and instead of specifying a month and/or year, click on the "Add a New Value" link.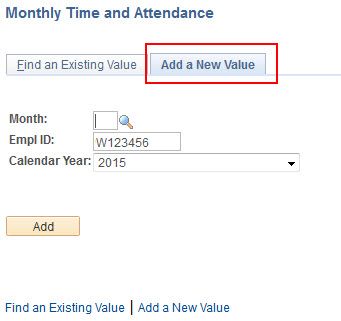 The employee ID number of the employee that is signed into SOARHR will default into the Empl ID field. Enter the month (01 = Jan; 02 = Feb, etc.) the employee is adding and click the "Add" button.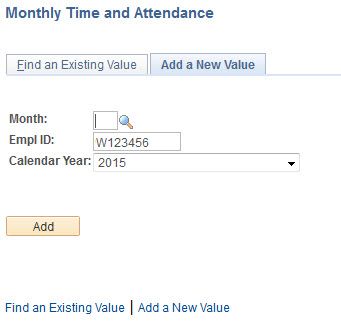 A page will appear for the month being entered.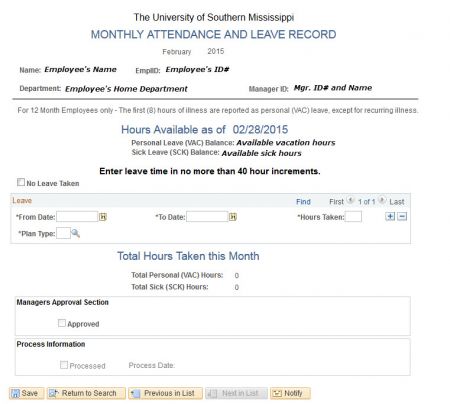 Guidelines and Scenarios for Entering Leave Taken
Consecutive Personal or Sick Time:
Consecutive time taken in your normal work week (usually Monday through Friday) should be entered on one line per plan type. Personal (vacation) and sick leave will be entered on separate lines regardless of when they were taken.
A 40 hour work week (Monday through Friday) of personal time taken would be entered as shown below: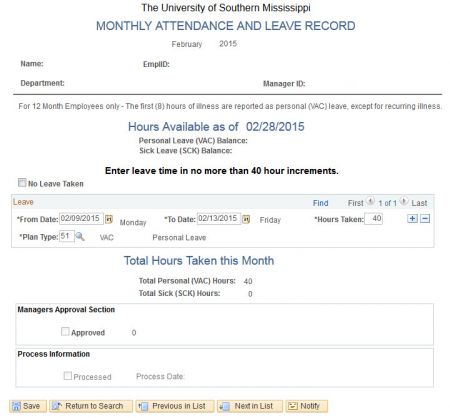 Keeping in mind the policy for sick leave states that the first 8 hours of a non-reoccurring illness must be reported as Personal (VAC), a week of sick leave taken would be entered as shown below:
Non-Consecutive Time:
Non-consecutive time taken in a Monday through Friday week should be entered on separate lines.
An employee who took personal leave on Monday and Thursday would enter time as shown below: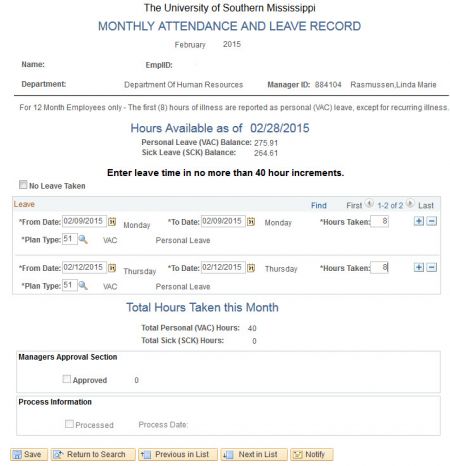 A 12-month employee who was out for personal on Monday and was out sick on Thursday and Friday for a non-reoccurring illness would record the time as shown below: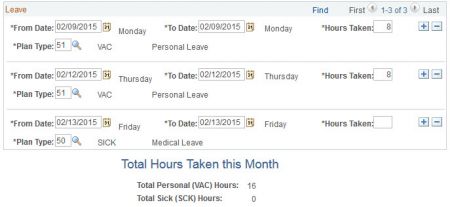 An employee who takes Thursday through Tuesday off for personal leave and Wednesday for a reoccurring illness will need to input time on three separate lines – one for each week as shown below.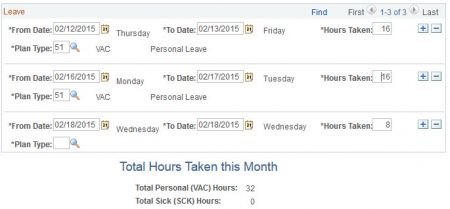 Note that the time is calculated under the heading "Total Hours Taken this Month" and will update with each change that is entered.
View Manager's Approval and Process Information
The manager's approval and process information is listed at the bottom of the page where you input the leave time. If the manager has approved time, the employee can no longer update time for that month. If the manager has not approved the leave in a timely manner, the time will not get processed until the next payroll cycle.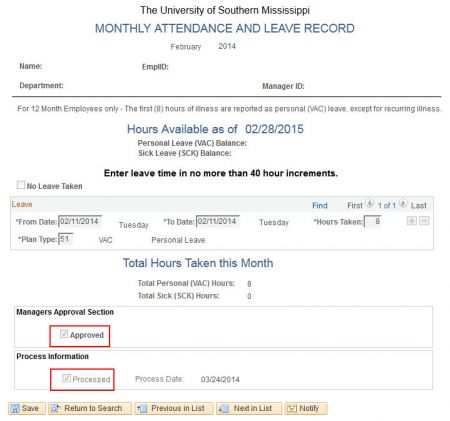 The employee may also return to the home page for entering leave and leave all areas blank and press the Search button.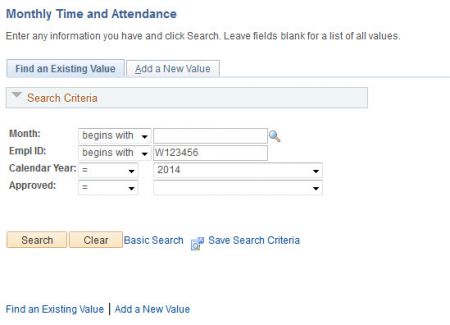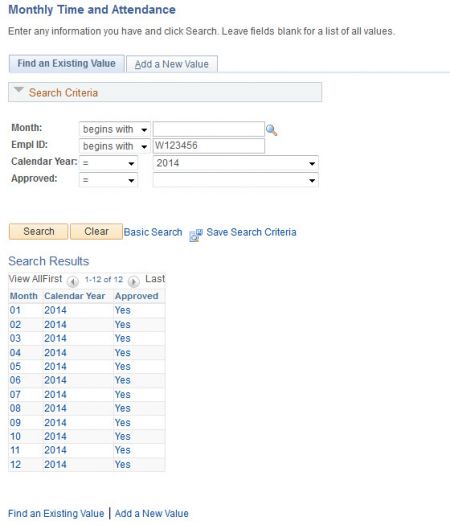 Search will return all months the employee has been eligible to enter time by calendar month, year and either "Yes" or "No" for Manager approved.
Log Out of SOARHR
As a security precaution always log out of SOARHR so your session will end. Closing the Internet browser does not log you out of the system, it merely closes the web browser. To log out correctly, use the "Sign Out" hyperlink at the top right side of the page.
Conclusion
It is easier to look at a calendar when planning to enter time. Remember to keep consecutive time together when possible and non-consecutive time separate.
If you are a new employee and you receive the error "Please see Manager, no manager listed The PeopleCode program executed an Error statement, which has produced this message", the manager must first assign employees to their Active Employee List. Once the manager has completed this task, new employees will be able to enter their leave time.
When in doubt on how to enter leave taken, ask the manager how time should be entered or send an email to Payroll at payroll@usm.edu.
What is on a Paycheck
Current and Year to Date Information
Personal Data
Address
Tax Elections
Earnings
Taxes and Deductions
Memo USM paid fringes
LITA (Life Insurance Taxable Amount)
Leave
Account Information for Deposit
Deductions and Garnishments
Deductions
Deductions can be taken from paychecks either before or after taxes. Deductions can be taken for programs or services that are elective to purchase or participate in or they could be those required by law.
Before tax deductions include:
Medical, dental, cancer and vision

Public Employees Retirement System (PERS) or

Optional Retirement Plan (ORP) (

Note these deductions do not reduce FICA taxable earnings.)

403(b) tax sheltered annuity plans and 457(b) deferred compensation plan

(Note these deductions do not reduce FICA taxable earnings.)

Flexible Spending Account(s) for medical and dependent care

Campus parking permits
After tax deductions include:
Graduate health insurance

Charitable donations to United Way, Alumni, USM Foundation and USM Athletic Foundation

Life insurance and disability

Other deductions for amounts owed to departments on campus
Tax deductions:
Garnishments
Contact Payroll with questions about garnishments.
A garnishment is a court order that directs the university to withhold money that is to be paid to a debtor from a paycheck, and to forward that money or property to the appropriate payee as instructed by the court for payment of a debt that is owed. Wages can be garnished because of debts to creditors, federal and state tax levies, or alimony and child support. USM does not deduct for voluntary garnishments.
There are three notifications of garnishments to a paycheck. First, a notification from an agency or court that will be sent to the person whose wages will be garnished. Second, a notification from USM to that person regarding their paycheck being garnished, and third the garnishments will be itemized on the paycheck.
Family Support

- The appropriate enforcement agency or court will send the university an order regarding a new family support order filed or a change on a current order.

Chapter 13 Bankruptcy

- This type of garnishment stops all creditors that are listed in the filing agreement with the Chapter 13 Trustees from garnishing checks (stops creditor garnishment only).

Creditor Garnishment

– A court can require the university to garnish paychecks as a result of a court judgment.

IRS Tax Levies

- The Internal Revenue Service (IRS) can garnish paychecks for tax levies the IRS has filed for any purpose such as taxes owed for property and back taxes. If married, the filing may be made on whichever person is employed by university.

Student Loan

- The Student Loan Guarantor sends notification to garnish paychecks if you are in default on a student loan.

Consumer Credit Counseling

- This is a contractual agreement between the individual, the debtor, and creditors, to pay an agreed upon amount.

IRS Payroll Deduction Agreements

- This is a contractual agreement between the individual, the debtor, to pay an agreed upon amount to the IRS.

State of Mississippi Tax Levies – The Department of Revenue will garnish paychecks for taxes that are owed to the State of Mississippi due to the filing of annual tax returns. The employee that is indebted to the State of Mississippi may not be paid any monies until the debt is paid in full.