Personal Counseling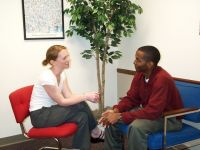 The Community Counseling and Assessment Clinic provides affordable, evidence-based counseling services to adults and adolescents (age 16+). Our clients include students, staff, and faculty from the University of Southern Mississippi, as well as people throughout the Hattiesburg community. We specialize in cognitive-behavioral therapies that are supported by research (i.e., evidence-based treatments).
Individual Counseling
We all need help from time-to-time, and meeting with a counselor can be a great way to overcome problems, gain perspective, or learn new skills. Examples of common concerns with which we assist people in individual counseling include:
Depression
Anxiety
Stress
Grief and loss
Relationship and interpersonal issues
Family concerns
Major life transitions
Anger management
Self-esteem
Employment difficulties
Academic success (e.g., time management, study skills)
Couples Counseling
Most intimate relationships will face challenges where it can be helpful to talk with a counselor. We provide couples counseling to assist couples with managing conflict, communicating more effectively, negotiating roles, coping with transitions, and dealing with infidelity.
Services Not Provided
As a training clinic, we are not able to provide certain types of services, including:
Emergency or walk-in appointments
Medical supervision or psychiatric medication
Chemical dependency treatment
Individuals who need substantial case management, on-going medication adjustments, and/or emergency access are generally not appropriate for a training clinic. In addition, we are not able to provide services to individuals involved in litigation around child custody or parental fitness, facing pending criminal charges, or other situations where court testimony is likely to be needed.