Counseling Psychology MS Program Requirements
Coursework
Students are admitted as part of a cohort of approximately 8 students each Fall semester. Coursework is organized and sequential in nature as to allow students preparation for each stage of the training process. As a true embodiment of the scientist-practitioner model, students complete coursework which informs their research projects as well as prepares them for work in the in-house training clinic. Core psychology courses, taught by experts in their respective fields, offers Counseling Psychology students exposure to the breadth of the field of psychology.
The program plan and example course schedule (Example Course Schedule) offers a semester-by-semester description of the types of courses offered and the sequence of courses.

The CPY MS Program Handbook (MS Student Handbook) offers an in-depth look at program policies and requirements.
Clinical Skills Training
Training begins the first semester where students are able to develop counseling approaches through a carefully supervised pre-practicum experience.

Students complete most practica in the Community Counseling & Assessment Clinic, our in-house training clinic serving both the university and Hattiesburg communities. Faculty provide weekly supervision including review of digitally recorded sessions and didactic training.

MS students complete an intensive internship typically during the summer in which they plan to graduate. These internships are coordinated with the Internship Coordinator, student, and site. Students typically work full-time at a community agency with an emphasis and location focused on the career goals of the student.
Research Training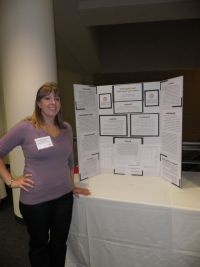 Research teams are comprised of doctoral students, master's students, and often undergraduates and are facilitated by program faculty members. These teams offer both didactic training in research skills specific to the faculty member's research areas, but also offers opportunities for professional mentorship, collaboration with peers, as well as opportunities for publication and presentation.

During the summer prior to beginning the program, MS students work with the Program Coordinator to identify and join a faculty member's research team. Each student and faculty member negotiate the research expectations of each MS student. MS students' research involvement range based on their career goals. Some plan to publish and present individually-driven projects and others work to support the research of their faculty mentor or team peers.
Professional Development
The program admits full-time students only. Assistantship opportunities are available throughout the university on a competitive basis for MS students. Our students are generally very successful in securing assistantships. Support for an assistantship search post admission and during the summer prior to beginning the program is provided by the Program Coordinator. Graduate Assistantships (GA) consist of a small monthly stipend, tuition waiver, and a 20-hour work week. Responsibilities at assistantship sites vary and are determined by the supervisor at each individual site.

Students are encouraged to join the Counseling Psychology Student Government, a collaborative student organization with the mission of engaging students in professional development activities, social outings, fundraising and program advocacy.