Counseling Psychology Program Highlights
Academic Excellence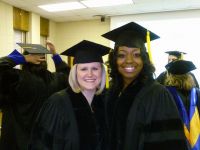 The Counseling Psychology program was recently ranked #1 in the country by www.counselingpsychology.org based on being the only Counseling Psychology Program in the country which can boast a 100% pass rate on the Examination for the Professional Practice of Psychology (EPPP is the national licensure exam for psychologists)
We maintain high standards and have been an APA accredited program since 1985
Students are enrolled full time on the Hattiesburg campus; there are not opportunities for part-time study or online coursework.
Comprehensive Clinical Training
Our in-house clinic offers close faculty supervision and contact with a diverse mix of college student and community clients.
Specialty training is available in anger management, career counseling, motivational interviewing, and parenting skills.
Our strong connections with the community also provide students with diverse training experiences at inpatient and outpatient mental health facilities.
Over the past 15 years, approximately 90% of our doctoral students have obtained APA-accredited internships on the first application, with the majority securing their 1st or 2nd choice of placement.
Research Opportunities
Research teams meet regularly and offer students individualized mentoring with faculty members
Graduate students engage in all aspects of the research process including presentations at national conventions and publications in top-ranked journals in the field
Applied research opportunities are available which demonstrate the benefits of the scientist-practitioner model
Professional Development
The program fosters an atmosphere of collaboration and collegiality.
Our doctoral students receive coursework and practicum experience in clinical supervision and have the opportunity to provide supervision of novice peers.
Undergraduate teaching opportunities are available for those students interested in academic careers.
Our students are actively involved in research teams and professional organizations such as the American Psychological Association (APA), Society of Counseling Psychology (Div. 17), Mississippi Psychological Association (MPA).