Why Counseling Psychology?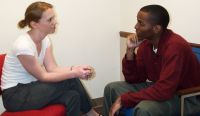 Counseling psychology is a licensed, health-service specialty within the field of applied-professional psychology. As an area of applied-professional psychology, counseling psychology has been shaped by values that give priority to interventions which foster psychological health and adaptive development. While practically speaking, clinical and counseling psychologists both provide psychotherapy, training in counseling psychology has historically been driven by a focus on normative development (more on the similarities and differences between counseling and clinical psychology).
As scientist-practitioners, you will be trained to develop critical thinking skills, objectivity, and a hypothesis-testing approach to human problems which applies science to the practice of psychology. You should expect to be trained to engage in research and to provide psychotherapy, assessment, and supervision. The integration of scientific inquiry and competent practice is achieved through a sequence of courses and supervised practice and research experiences. Courses are developmentally sequenced to provide you with challenges appropriate to your level of training. Both research and practice are emphasized and begin early in the program. Timelines to completion of the program vary, but typical students can expect to spend at least 4 years in residency and 1 year on internship following successful completion of all coursework, research and practicum expectations.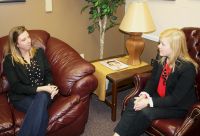 We pride ourselves on offering a challenging and supportive environment from which students are trained to be competent academicians and practitioners. Graduates of our doctoral program become licensed psychologists and work in community mental health settings, psychiatric and medical settings, Veterans' Administration hospitals and in independent practice (see listing of recent graduates here). Graduates of our master's program become licensed professional counselors or go on to further doctoral study in psychology. Those that practice after their master's degree often work in community mental health, educational, and independent practice settings. Opportunities for mentorship toward careers in academia are available; applications from students with these ambitions are strongly encouraged.