Current Events and Highlights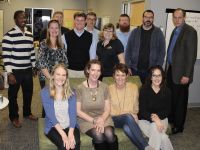 Dr. Laura Gulledge, Assistant Professor of Criminal Justice, received a certificate for her completion of the first ACUE module at a reception held at The USM Center for Faculty Development on November 30, 2018. ACUE (Association of College and University Educators) provides professional development opportunities for university faculty designed to improve teaching and instructional practices. We are proud of Dr. Gulledge and her recent accomplishment. Dr. Alan Thompson completed the ACUE program in 2017 and has received the ACUE Distinguished Teaching Scholar designation.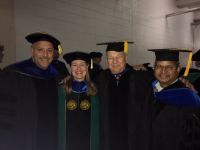 Our faculty celebrating the success of our students at Fall 2018 graduation! SMTTT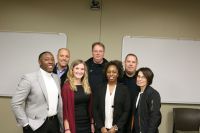 School of Criminal Justice, Forensic Science, and Security graduate students recently gave presentations to the Gulfport Police Department command staff. We are grateful to our police and community partners for supporting USM!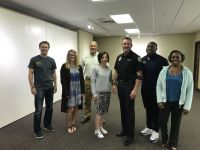 On October 17th, 2018, Commander Ken Brown of Gulfport Police Department spoke to our School of Criminal Justice, Forensic Science, and Security Graduate and Ph.D. students in their Policing seminar course. Commander Brown spoke about leadership roles within the police department and how they play a significant role in the community. We would like to thank Commander Brown for coming and speaking with the students.
Report for interest in police patrol careers, co-authored by Dr. Scheer
The city of Hattiesburg and USM have reached an agreement offering up to six credit hours each semester to full-time sworn employees at the Hattiesburg Police Department.
USM is hosting a town hall meeting for Stand Up Mississippi on Tuesday, September 25th, which will focus on the opioid crisis.

Justice Dawn H. Beam, Mississippi Supreme Court Justice, was presented with the Susie Blue Buchanan Award at the 2018 Mississippi Bar Association's Annual Meeting held in Destin, Florida. The Award is presented by the Women in the Profession Committee and is named for Susie Blue Buchanan, the first female member of the Mississippi Bar who was admitted to practice in 1918. Justice Beam was acknowledged for her extensive professional accomplishments and her ongoing service to and promotion of women in the legal profession. Justice Beam serves as Adjunct Instructor of Criminal Justice at USM within The School of Criminal Justice, Forensic Science and Security. Congratulations to Justice Beam on her receipt of this prestigious award.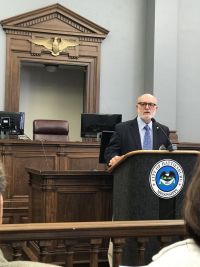 On May 14th, 2018, Dr. Wes Johnson spoke at the Open House for the City of Hattiesburg Behavioral Health Court on the history of the court. Mayor Barker, Judge Wes Curry, and Lt. Latosha Meyers-Mitchell (HPD) were among the others that spoke. Click here for video.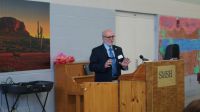 On May 11, 2018 Dr. Wes Johnson spoke to a gathering of mental health professionals attending a special program focusing on Bridging the Gap. The program was sponsored by the MS Department of Mental Health and South State Mental Hospital in Purvis, MS. The title of the presentation was Lessons Learned in Implementing Mental Health Diversion Programs in MS.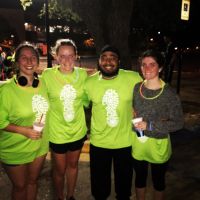 Criminal Justice and Forensics grad students competed in 2018 Glow Run on April 19, 2018.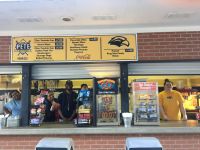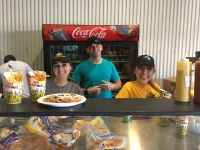 Criminal Justice Student Association and Forensic Science Society members volunteered their time to work concessions at the USM baseball game on April 4, 2018. USM hosted the UL-Lafayette Ragin' Cajuns at Pete Taylor Park. It's wonderful to see our students actively engaged in campus life. Our student organizations receive a percentage of the concession profits for their service.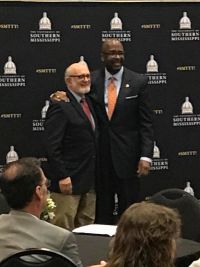 The School of Criminal Justice, Forensic Science and Security congratulates Dr. Wes Johnson on ten years of service at USM!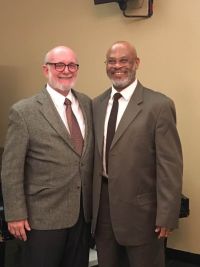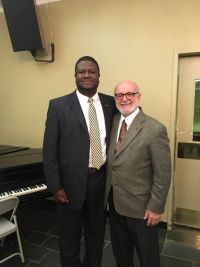 Dr. Wes Johnson, Professor of Criminal Justice and Doctoral Program Director, was recently honored for his hard work in establishing an annual banquet series at South Carolina State University, an HBCU. The banquet was designed to provide opportunities for criminal justice majors to connect and interact with African American practitioners in the field of criminal justice. The banquet series is still going strong and is now in its 27th year. Dr. Johnson was recognized for his contributions at the 27th Annual Banquet. Dr. Johnson taught at SCSU from 1980-1988 and has been with The School of Criminal Justice, Forensic Science and Security at USM since 2007. Please join us in congratulating Dr. Johnson for this well-deserved achievement.
Each year students majoring in Criminal Justice and Forensic Science have the opportunity to travel to Washington, D.C. with Dr. Dean Bertram, Associate Teaching Professor of Forensic Science. While in our nation's capital, students tour federal agencies such as the FBI, DEA, CIA, and others. This year, our students were treated to a visit with Congressman Steven Palazzo where they were able to learn more about his priorities for Mississippi and discuss issues related to justice, science, and USM!
The School of Criminal Justice, Forensic Science and Security will host a guest lecture by author Charlie Spillers, on Thursday, February 22nd at 5:30 p.m. The lecture will be held in Scianna Hall Room 1003. A Mississippi native, Spillers' career in law enforcement spanned 40 years. His law enforcement career began with the Baton Rouge Police Department followed by his service as an accomplished undercover agent with the Mississippi Bureau of Narcotics. Spillers spent a decade fighting drug trafficking, auto theft rings, drug smuggling operations, and police corruption. Also an attorney, Spillers served as a federal prosecutor and completed three tours in Iraq for the U.S. Department of Justice where he was on the prosecution team that tried Saddam Hussein.
School of Criminal Justice, Forensic Science and Security Director, Lisa Nored, participated in Tiger-Eagle Lectures. This was part of the CTE month-long celebration hosted by Hattiesburg High School Career and Technical Education program.
Students were able to preview the college lecture environment and explore possible career paths.
The Criminal Justice Student Association recently participated in two demonstration events. Students visited the Lamar County Shooting Range where CJ alum, Major Brad Weathers (03) hosted the group's visit. Major Weathers and other Lamar County deputies demonstrated how law enforcement utilizes a gun range for training and development activities.
Gulfport Police Department K-9 Officers visited USM and conducted a demonstration for CJSA members. Students learned how K-9 handlers and their four-legged partners perform their official duties.
It's always a pleasure to attend the ROTC Commissioning Ceremony and observe our graduates being commissioned into the United States Armed Forces. Last week, Adrian Conner and Jacob Palmer, both criminal justice majors, were commissioned. We wish them the very best and thank them for their service to our country.
Dr. Wes Johnson gave a presentation entitled The Criminalization of Mental Illness: Crisis and Opportunity for the Justice System. He discussed the effects of deinstitutionalization and budget cuts on the criminal justice system as well as a number of positive changes being made to improve Mississippi police responses to individuals experiencing a mental health crisis.
Emily campo displayed her honors thesis on obtaining fingerprints on semi-porous surfaces at Honor's Day.
In September 2017, The School of Criminal Justice, Forensic Science and Security hosted the first annual Drug Court Summit. This event was attended by drug court judges, coordinators, probation officers and a host of statewide policymakers. Issues related to the statewide evaluation of Mississippi drug courts by the Mississippi Statistical Analysis Center were discussed. Preliminary findings regarding drug court evaluation were presented by Assistant Professor of Criminal Justice, Dr. Charlie Scheer.
Graduate students from the School of Criminal Justice, Forensic Science and Security volunteered their services at the 2017 Southern Criminal Justice Association Conference in New Orleans on September 26th-29th. The students were responsible for working the registration desk for SCJA.
Vice President for Research Gordon Cannon and The Drapeau Center for Undergraduate Research held a reception to honor students who received the Eagle SPUR Awards for the 2017 Fall semester. This reception was held on Friday, August 18, 2017. Senior criminal justice major, Ariel Elliott, was recognized for her research and funding award. Dr. Alan Thompson serves as Ariel's mentor.
Dr. Dean Bertram recently represented The School of Criminal Justice, Forensic Science and Security at the annual College View held at The Mississippi School for Math and Science. We have recruited some of our best and brightest students from MSMS and look forward to this event each year.
Adjunct Faculty Earns Prestigious Award
Judge Mike McPhail of Hattiesburg Receives Mississippi Bar Foundation's 2017 Law-Related Public Education Reward
MDIAI 2017 Educational Conference
From April 11-13, 2017 the MDIAI held its annual Educational Conference in the Thad Cochran Center at USM. The Mississippi Division of the International Association for Identification's (MDIAI) mission is "to encourage the enlargement and improvement of the science of forensic identification and crime detection" and they bring that to fruition by holding events like this one. The keynote speaker for the event was Dr. Laura Pettler, a Forensic Criminologist and Current Deputy Coroner. Some of the topics presented and discussed were crime scene investigation, crime scene reconstruction, 9-11 call analysis, and forensic victimology.