Housing Overview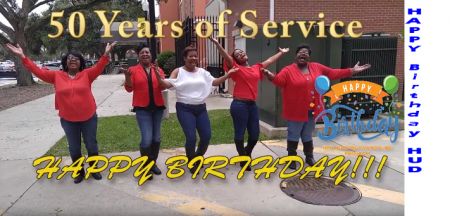 The University of Southern Mississippi Institute for Disability Studies (IDS)housing staff creates a video in honor of HUD Housing Counseling Program's 50th birthday. IDS has been administering HUD housing programs since 1997.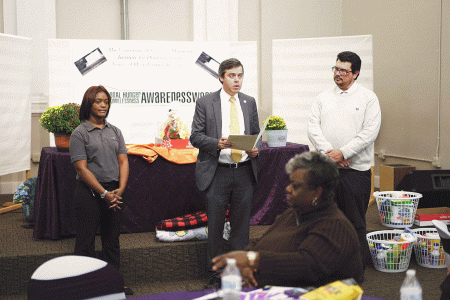 The City of Hattiesburg's Mayor Toby Barker presented a proclamation to the USM/IDS housing staff in honor of National Hunger and Homelessness month. IDS Project Recovery homeless program hosted the "Voices of Homelessness" seminar to provide awareness of the homeless services needed in the Hattiesburg area. In addition to feeding the homeless, possible resources were provided to the homeless community.
Housing Initiatives at IDS
The Institute for Disability Studies (IDS) has long believed that people with disabilities have the right to live in their own home with their families and fully participate in their community. Through technical assistance and training, IDS reaches out to many factions in the community—realtors, lenders, advocacy groups, local, state, and governmental entities and the general public—to make sure individuals with disabilities and their families can purchase a home or find permanent housing depending on their needs.
Project Recovery Rapid Re-housing - a program to assist families who are experiencing homelessness, living in shelters and needs to be quickly re-housed and stabilized in permanent housing. The short term financial assistance is provided to eligible clients that will be able to remain stably housed after temporary assistance ends.
USM/IDS has partnered with HOPE Enterprise Corporation to help deem prospective low to moderate income homebuyers in the Hattiesburg area, eligible for the Mississippi LIFT program being funded by Neighborworks America. Project LIFT will provide eligible homebuyers with down payment assistance funds for home purchase. Homebuyers will apply on-line to receive appointments for consideration for the $7500 grant to help buy a home in Mississippi. This special program will provide a $10,000 grant to eligible police, fire fighters, teachers, military and EMT's. Homebuyers will need homebuyer education which is available on-line at www.ehomeamerica.org
USM/IDS partners with Mississippi Home Corporation's to help eligible homeowners with delinquent mortgage payments due to the death or divorce of a spouse that was on the mortgage, due to being unemployed and currently getting unemployment or involuntary underemployment with 15% reduction of income. Potential homeowners can apply on-line at www.mshomesaver.com
---
For more information, contact:

IDS Housing Program
Telephone: 601.266.5163 option 1
Toll Free and TTY: 1.888.671.0051