Opportunities for Students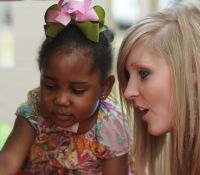 Students who work at The Children's Center for Communication and Development gain experience and training that prepares them for the specialized services they will provide to children with disabilities. Students who have trained at The Children's Center are regularly lauded for their exceptional knowledge and skills, and are often regarded by seasoned professionals as budding experts in allied health and education services for young children.
Graduate Assistantships
Graduate assistants ("GAs") are critical team members of The Children's Center's exemplary program and of The Children's Center's capacity building mission. Assistantships allow The Children's Center to serve more children and provide more training to undergraduates and families.
Working graduate assistantships are awarded through a highly competitive process that is based on the results of (1) extensive clinical staff and faculty interviews, (2) Graduate Record Exam scores (GRE), (3) grade point average, and (4) recommendations.
Graduate assistants work a minimum of 20 hours per week and have intense, direct contact with the children served at The Children's Center.
GAs begin their assistantships by observing and assisting teachers in a hands-on classroom and clinical situations. GAs help clinicians and teachers with classroom and therapy preparations and participate in transdisciplinary team meetings. When they have progressed appropriately, GAs perform direct or team teaching and therapy. At all times, GAs are under the direct supervision of a nationally board certified Speech-Language Pathologist.
Graduate assistants are paid a stipend of $7,200 plus insurance, per year.
As many as nine (9) graduate assistants in the Department of Speech and Hearing Sciences are trained at The Children's Center each year.
Practicum Hours
Southern Miss students can earn practicum hours at The Children's Center while enrolled in professional programs in the Department of Speech and Hearing Sciences.
Volunteer Assistants
Students who wish to gain knowledge and experience but who do not need practicum hours may be able to volunteer as teaching assistants.
For more information regarding the various opportunities for students, contact the directors' office at 601.266.5222.