Services Provided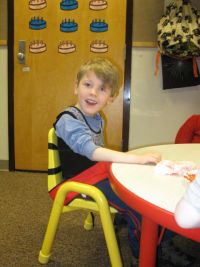 A variety of pediatric therapeutic and educational services are provided by The Children's Center for Communication and Development. Although older preschoolers are typically served at The Children's Center, individually or in small groups, approximately one-third are served in their homes, daycares, or other community settings. Each child, whether served at The Center, at home or at daycare, receives the benefit of the passionate and gifted transdisciplinary team, providing a comprehensive and customized education and therapy program designed to support his or her maximum potential.
The transdiciplinary team includes experienced early intervention specialists in speech-language pathology, early oral intervention, audiology, special education, behavioral therapy, physical therapy and occupational therapy.
No child is turned away based on disability. Appropriate space is available allowing any child ruled eligible by the Mississippi Department of Education to be enrolled in The Children's Center. If we cannot meet a child's needs, alternative locations or arrangements may be determined.
Services Provided by The Children's Center
Communication and developmental screenings
Comprehensive developmental assessments
Assistive technology/augmentative communication training
Speech-language therapy
Early Oral Intervention
Special education
Physical therapy
Instructional intervention for at-risk infants
Occupational therapy
Behavioral therapy
Hearing evaluations
Preprofessional and professional training
Outreach and technical assistance for teachers and service providers
Resource loan library
Parent education and support