Center for Writers Faculty
Angela Ball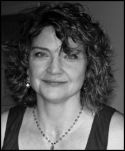 Angela Ball's prize winning and frequently anthologized poems and translations have appeared in journals including The New Yorker, Atlantic Monthly, Colorado Review, Denver Quarterly, Field, Partisan Review, Ploughshares, Poetry, and The Southern Review. Her books of poetry include Kneeling Between Parked Cars (Owl Creek Press, 1990);Possession (Red Hen, 1995); Quartet (Carnegie Mellon, 1995); and The Museum of the Revolution (Carnegie Mellon, 1999). Her 2007 collection, Night Clerk At the Hotel of Both Worlds (University of Pittsburgh Press), received both the Mississippi Institute of Arts and Letters Award in Poetry and the Donald Hall Prize from the Association of Writers and Writing Programs. The recipient of an Individual Writer's Grant from the National Endowment for the Arts, Ball has represented the U.S. at the Poetry International Festival in Rotterdam, and has been a writer in residence at the University of Richmond and at Chateau Lavigny near Lausanne, Switzerland.
Adam Clay
Adam Clay is the author of Stranger (Milkweed Editions, 2016), A Hotel Lobby at the Edge of the World (Milkweed Editions, 2012), and The Wash (Parlor Press, 2006). A fourth book is forthcoming from Milkweed Editions. His poems have appeared in Ploughshares, Denver Quarterly, Georgia Review, Boston Review, Iowa Review, and elsewhere. He is editor-in-chief of Mississippi Review, co-edits Typo Magazine, and edits book reviews for Kenyon Review.
Monika Gehlawat

Monika Gehlawat received her Ph.D from UC Berkeley where she studied 20th Century Literature and Art. Her current book manuscript Speaking Up: Singularity and Voice in Postwar American Literature takes up the work of James Baldwin, Frank O'Hara, Grace Paley and Andy Warhol, and reflects her longstanding interest to work in the interdisciplinary mode. Gehlawat is the Director of Graduate Studies and also teaches courses in modern and contemporary literature, critical theory and visual art. She is the 2013 recipient of USM's Junior Faculty Teaching Award. Her recent publications include: "Myth and Mimetic Failure in Ishiguro's The Remains of the Day" forthcoming in Contemporary Literature (Fall 2013); "An Opposite Force's Breath: Medium-boundedness, Poetry and Painting in Frank O'Hara" in New York School Collaborations: The Color of Vowels, ed. Mark Silverberg (Palgrave/Macmillan) 2013; "Space, the Self and Singular in Le Corbusier and Christopher Isherwood," Literary Imagination, Oxford UP (Spring 2012); "Desperately Seeking Singularity in Franny and Zooey," LIT: Literature Interpretation Theory, Special Issue on J. D. Salinger. Routledge (2011) 59-77.