Graduate Study Abroad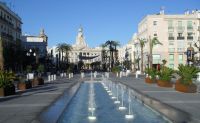 The MATL and Study Abroad
It is possible to study with a group going abroad from the University of Southern Mississippi. Please check with the Department Chair or Graduate Program Director for more information about Spanish and Dr. Joanne Burnett or Dr. Katie Angus for possibilities in French.
Graduate Credit Abroad
Graduate students in the MATL or from other institutions who wish to study at a language institute can combine travel, study, and research for graduate credit (3-6 hours). The French program supports learning opportunities in Paris. Spanish graduate students can study at the Summer Teacher Institute in Cadiz, Spain. Students take language courses, in addition to conducting work on a specific research project for a total of six (6) hours of graduate study transfer work. An instructor from the university will be on site to supervise the students' program of studies.