About Geography and Geology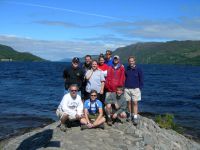 As a leading interdisciplinary department of geography and geology, we study the dynamics of physical and human environments and the relationships that shape them. We emphasize excellence in learning and teaching, geospatial science and technology, professional service, and research from local to global scales. Mission Statement Fall 2011
The Department of Geography and Geology encompasses a wide range of subdisciplines that deal with the most important issues facing humans and Planet Earth. Our faculty and staff are on the cutting edge of studies that range from humans and the environment, climate change, sustainability, Earth processes and materials that affect humans to deep Earth processes and resource development.
Students who study from our department are well prepared to enter the workforce as professional geographers or geologists, or to further their education at graduate school. We offer separate degrees in geography and in geology, as students with these degrees will have the full curriculum to be professionals in these respective fields. There is, however, considerable overlap in the two disciplines, particularly with physical geography and geology that make us natural partners.
Geography is the field devoted to the study of the lands, features, habitats and phenomena of the Earth. It is a key tool that can be applied in a wide range of fields, including studying the shifting distribution of plants and animals (biogeography), climate change, the weather, coastal geography, glaciers, oceans, economic and social geography, urban planning, tourism and many other applications. Perhaps most importantly, geography is central to understanding the influence humans are having on the planet.
Geology is the study of the Earth, and includes the physical processes that operate on its surface and deep underground, the history of life and its evolution, tectonic evolution, mineral resources, environmental assessment and remediation and many other topics. Students who graduate in geology can expect to find jobs in petroleum geology, mining, resource assessment, environmental geology, state and federal agencies, and academics among other occupations.
We are located in Hattiesburg, Mississippi in the heart of the Pine Belt, about 70 miles from the Gulf of Mexico, and have faculty and research staff at our Gulf Park Campus in Long Beach. All undergraduate degree and certificate requirements can be taken at both campuses, whereas the graduate program is housed on the Hattiesburg campus. Our location provides students an ideal setting for research, field work, and academic study. Hattiesburg is listed as one of the top historically developed cities in Mississippi, and Southern Miss is ranked as a Carnegie Foundation Research Intensive University and Class 1 Southern Regional Educational Board Institution.
All of our faculty are actively engaged in their field and are among the finest professors and instructors anywhere. Our department was ranked as the top in the state for geography by universities.com.
Do you enjoy learning in a fun and interesting environment? Do you want to learn practical skills that can be applied in a professional career? Are you concerned about the future of Humans and Planet Earth? If so, stop by our offices in Walker Science Building in Hattiesburg or in the Science Building on the Gulf Coast campus.
We look forward to seeing you!
Dr. David M. Cochran, Jr., Associate Professor and Interim Chair