Geography on the Coast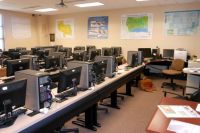 Geospatial Teaching and Research Lab. The department also maintains a Geospatial Teaching and Research Lab at the Long Beach Campus. Included here are 25 student computers, a complete instructional/projection console, connectivity for personal laptops, and is both wired and wireless. Instructional and research software and equipment includes: ArcGIS, ERDAS IMAGINE, ENVI, Pathfinder Office, and Manifold. Also available are a Color/BW Laser Printer, GPS devices, and survey equipment.
Tree-ring Lab. Also located here is the department's Tree-ring Lab which includes TSAP and Cofecha Software, a LinTAB 6 measuring board, microscopes and sampling equipment.
Gulf Coast Geospatial Center. Within Stennis Space Center, Dr. Greg Carter and some of our former and present graduate students are at the Gulf Coast Geospatial Center. These facilities are about 65 miles southwest of Hattiesburg. The Center is closely associated with the Department of Geography and Geology and the office of the Vice President for Research and Economic Development. The Center is involved with, but not limited to, coastal research focused upon barrier islands, coastal wetland habitat change, land use, hurricanes, and long-term elevation rectification and Height Modernization. Visit them at http://www.gcgcusm.org/research.php