Educational Resources
for families and service providers of children who have both a hearing and a vision loss
Evidence-Based Practices for Students With Sensory Impairments is a 2014 Publication from CEEDAR Center with an entire section on practices for students who are deaf-blind, visually impaired or deaf/hard of hearing.
Deafblindness: Educational Service Guidelines offers state and local education agencies a framework from which meaningful, appropriate programming for students who are deafblind can be developed. These guidelines identify the knowledge and skills educators need to assist their students who are deafblind reach their full potential and become successful, contributing members of our society.
IEP Quality Indicators for Students with Deafblindness produced by the Texas Deafblind Outreach, Texas School for the Blind and Visually Impaired. This resource will guide the entire team through making sure that goals and considerations address the needs of students with combined vision and hearing impairments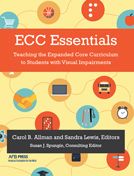 ECC Essentials
The first comprehensive book for teachers working to meet the unique learning needs of their students with visual impairments. It focuses on the education of children and adolescents in the expanded core curriculum by providing the rationale, suggestions, and strategies necessary to implement instruction. ECC Essentials gives teachers a road map for helping their students achieve success in school and life.
Available in print or electronic format through AFB Press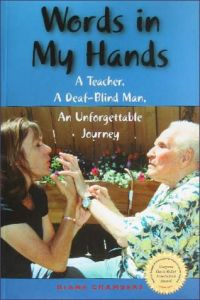 Words in My Hands, A Teacher, A Deaf-Blind Man, An Unforgettable Journey
Bert Riedel, an eighty-six year-old deaf-blind pianist, cut off from the world since age forty-five, discovers a new life through tactile sign language. This is a heartwarming narrative about the life changing power of american sign language communication told by Diane Chambers, Bert's sign language teacher. Diane finds her world transformed as well by her relationship with her unique student. Words in My Hands is the true story of their unforgettable journey.
Available in print, or on CD for use with screen reading software. Also available as e-book on Kindle!
ISBN 9760967-0-6, Words in My Hands is in soft cover, 263 pages and includes photographs. Available online at the following bookstores: Harris Communications, Eden Prairie, MN, Barnes & Noble, Amazon or Kindle.
Archived Webinars
NYDBC Webinar Series Archived Recordings
All webinar recordings are FREE to access and are provided in spoken English with simultaneous ASL interpretation.
"Early Identification & Referral of Children with Dual Sensory Loss"
"Enhancing Parent-Professional Collaborations"
"Understanding the Role & Function of an Intervener"
"Transition Planning for Young Adults who are Deaf-Blind"