History Graduate Society
The History Graduate Society at the University of Southern Mississippi was founded in 2009 to serve the needs of history graduate students.
Mission Statement

The History Graduate Society at The University of Southern Mississippi (HGS) is an organization composed and run by graduate students in the department. Our mission is to promote the study of history at the graduate level and to assist current graduate students as they pursue their education, research, and career goals. The society provides a safe forum for graduate students that promotes cooperation between faculty and students by supporting professional development workshops and by organizing social events throughout the academic year. HGS helps current and prospective students navigate the department and the university.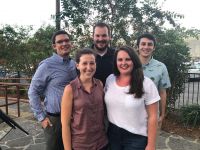 Current Officers (2018-2019)
President: Lucas Somers
Vice President: Hayley Hasik
First-Year Representative: Jacob Featherling
Graduate Student Senate: John Sarvela
Secretary: Daniella Kawa