National History Day in Mississippi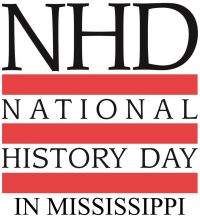 National History Day is a nationwide competition for middle and high school students. It encourages students to use their creativity to develop original historical research focused on an annual theme. The Department of History at the University of Southern Mississippi helps to prepare students for national competition and hosts the annual statewide contest.
Mississippi History Day is
Saturday, March 23, 2019

in the Liberal Arts Building on the Hattiesburg campus of Southern Miss.

The deadline for registration is March 1, 2019

Students will be allowed to continue working on websites and papers until Sunday, March 10, 2019 but will be prevented from making any changes from Monday, March 11, 2019 onwards. Papers should be emailed to rebecca.tuuri@usm.edu. by the March 10 deadline.

CLICK HERE to register for the 2019 Mississippi History Day Contest
The 2019 National History Day theme is "Triumph and Tragedy in History."
Students who participate in the state National History Day contest compete for the opportunity to attend the national competition in College Park, Maryland, and have the opportunity to win scholarships and other awards. To participate, students create a project (group or individual) in one of five areas: video documentary, exhibit, paper (individual only), performance, and website design. Students who participate prepare themselves for college by developing a better understanding of primary source research. National History Day creates better students and citizens.
Click Here for the 2019 Theme Book.

NHD in MS at the NHD National Competition 2017

"Mississippi had a strong showing at Nationals yet again, with an increase in students finishing in the top half of their rooms from 2016. Mississippi had two Senior division projects that finished 2nd in their rooms, ranking them top 20 in the nation. It was also a great week, with a Mississippi project also being displayed at the Smithsonian American History Museum. Students visited memorials, museums (including the new African-American History Museum) and even got to listen to guest speaker Ken Burns. National History Day 2017 will be a great launching point for an even better 2018."
The Department of History wants to help teachers by making National History Day a useful classroom resource, something that can enrich existing lessons and reduce the burden on already over-burdened educators.
Check out our resources page for more information on local collections of historical resources in your area. You'll be surprised to see how many archives and local museums we have all across the state.
In addition to putting teachers in contact with local archivists and museum directors, we offer workshops for teachers (with continuing education credit) and for students, run by faculty from the University of Southern Mississippi's Department of History. If you are interested in bringing National History Day into your classroom, let us know how we can help.
We hope that you also will become involved in your child's learning and participation in National History day. Please feel free to contact us with any questions or concerns that you may have.