National History Day Resources
Resources in Mississippi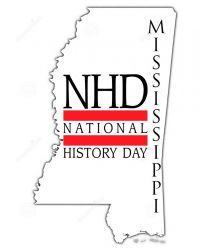 Research projects in history are based first and foremost on primary sources, which can be tricky to find, but we are fortunate that the state of Mississippi has a wealth of institutions willing to help you in your quest for original documents. To help you access resources in your area we have compiled a downloadable directory of archives, museums, national parks, and other useful institutions. Archivists, directors, rangers, and other specialists can be an invaluable resource for matching sources to your research interests, so make good use of them!
Contest Rulebook [PDF]
Examples of Winning Projects [URL link]
2018 Theme Book [URL link]
Online Resources
Not all topics will benefit from local archives, especially those that do not touch directly on the state of Mississippi, but these history projects need to draw on primary sources too. To help you begin your research, we have put together an ever-growing list of websites with substantial collections of primary source material. Because this resource is intended first and foremost to benefit Mississippi National History Day students and undergraduates, we have only included free (non-subscription) sites with substantial sources in English.
While we've tried to arrange these according to subject and geography, there will inevitably be some overlap (a site that focuses on the First World War, for example, will also include material on Germany). Be sure to look through the entire list to make sure you haven't missed anything useful!
If any of the links are broken, or if you'd like to suggest other sites not included below, please let us know so we can make this an even better resource.
Not sure how to find more primary sources online or how to use them once you've found them? Check out the American Library Association's guide to Using Primary Sources on the Web.
General
A tremendous internet library that includes video, texts, audio and links to other major digitization sites
Center for History and New Media
Innovative center at George Mason University, whose website combines collections of primary sources on all manner of topics (ranging from the French Revolution to the revolutions of 1989, from the Soviet gulag to the attacks of 11 September 2001, from women in world history to youth in world history) as well as teaching modules and various research tools for beginning and advanced researchers.
Truly impressive collection of primary sources on all periods of history, most parts of the world, and a wide range of themes.
Collection of hundreds of primary documents of seminal importance to world history (although heavy on Europe and America), starting with the Reform Edict of Urukagina (2350 BCE) and ending with Obama's remarks on the occasion of Justice Stevens's retirement and the West Virginia mining tragedy (2010 CE). Comes with teachers' guides and discussion questions.
Lists over 35,000 free books on the Web.
Google Books and Google Scholar
Online repository of countless books and academic articles, historical and recent.
Searchable database of over 7,000,000 patents.
A vast online collection of statistical databases relating to economic history.
Perry-Castañeda Library Map Collection
Historical maps (especially relating to the Americas) and links to other useful historical map sites.
United States Military Academy Historic Atlases
Extensive collection of detailed maps relating to the history of warfare since ancient times.
Avalon Project: Documents in Law, History, and Diplomacy
Tremendous collection of documents relevant to the fields of law, history, economics, politics, diplomacy, and government dating from to the beginnings of human history to the present-day. Among the innumerable modern topics covered are the Middle East peace process, treatises and statues on slavery, 11 September 2001, human rights and war crimes, and all aspects of American diplomacy.
Interesting, for-profit website that collects and indexes American magazine articles from the early to mid-twentieth century. Among the many topics covered are African-Americans; both World Wars; television, film, and music; language; art; sport; social graces; and perceptions of foreign figures like Adolf Hitler, Benito Mussolini, and Mahatma Gandhi.
Interesting and eclectic collection of primary and secondary sources on a wide range of topics, ranging from Alexander the Great to Machu Picchu and from Ibn Battuta to Andrew Jackson.
Mississippi
University of Southern Mississippi Digital Collections
Includes materials relating to Civil Rights in Mississippi, editorial cartoon, the de Grummond Collection of Children's Literature, the Mississippi Digital Library, extensive Oral History Digital Collections, general Historical Manuscripts and Photographs relating especially to Mississippi and the South, and the history of USM.
Digital Collections @ MSU Libraries
Contains the following collections: sheet music from the Charles H. Templeton, Sr. Sheet Music Collection, digitized items from the Congressional and Political Research Center, and a variety of images and materials found in the CHARM (Consortium for the History of Agricultural and Rural Mississippi) Project, and MSU University Archives Photographs.
University of Mississippi Libraries Archives and Special Collections
Contains a few collections related to 19th century Mississippi history and to the history of music in Mississippi.
The cooperative digital library program for the state. Its ultimate aim is to provide access to primary source materials covering a wide range of subject areas from Mississippi museums, archives, libraries, and historical societies and currently includes links to the digital collections at many of the states major research institutions.
United States
Photographs, maps, music, sound, film, manuscripts, and other media available online.
An overview of the many collections related available through the Library of Congress, this resource assembles primary sources on virtually any topic related to American history, including all official Congressional documents (1774-1875); the papers of many presidents; collections of posters, propaganda , and advertisements; materials related to the development of American sport; surveys of architecture and the environment, and urban and rural life; important materials related to the histories of African-American (including oral histories of slave experiences), Native Americans, immigrants, and women; and documents related to war, technology, religion, and the fine arts.
Online exhibits of the National Archives, including such topics as presidential campaigns, the flu pandemic of 1918, eyewitness accounts of American history, the transformation of labor, and the founding documents (the actual ones!) of the US.
Huge collection of primary documents relating to American history dating from the first European explorations.
Making of America (Michigan) and Making of America (Cornell)
Thousands of digitized historical resources on American history, including social history resources, military history resources, and historical journals and magazines.
Chronicling America: Historical American Newspapers
Allows you to search and view newspaper pages from 1880-1922 and find information about American newspapers published between 1690-present.
This for-profit site contains tens of millions of newspaper pages from 1753 to present. Every newspaper in the archive is fully searchable by keyword and date, making it easy for you to quickly explore historical content.
A truly awesome resource that provides access to C-Span's complete archive of coverage of the past 23 years of American government. This includes over 160,000 hours of video footage of presidential speeches, Congressional debates and hearings, and basically anything that C-Span has seen fit to broadcast (which is an awful lot). The video library is completely searchable by title, keyword, and date.
The Archive of Early American Images
A database of pictures of the colonial Americas, from Hudson Bay to Tierra del Fuego, based entirely on primary sources printed or created between 1492 and ca. 1825.
US Census Bureau Historical Census Reports and Census of Population and Housing
Essential statistical data to provide context for American topics.
Assembles data from US Census reports from 1790 to 1960 and provides tools to create databases, tables, and maps according to multiple topics arranged by state or by county.
National Historical Geographic Information System
Provides, free of charge, aggregate census data and GIS-compatible boundary files for the United States between 1790 and 2000.
US Dept of Labor Bureau of Labor Statistics
A rich source of historical and contemporary economic data for the US.
One of the world's leading developers of demographic data resources, providing population data to thousands of researchers, policymakers, teachers, and students.
Kyle Zelner's American History Links
A collection of links to online sources compiled by Professor Kyle Zelner (Southern Mississippi) on early American history and military history.
Gilder Lehrman Institute of American History
Provides access to online exhibitions of materials from their extensive collections on American history. Currently includes exhibits on American military history, Abraham Lincoln, slavery, the Civil War, Alexander Hamilton, and the Manhattan Project.
Comprised of artifacts and sounds from American popular culture (from 1600 to the present), created to teach that the everyday objects in society have authentic historical value and reflect the social consciousness of the era that produced them.
A massive collection of links to secondary sources, reviews, and a host of primary sources relating to the Gilded Age and Progressive Era.
Brown University Center for Digital Scholarship
Fascinating collection of images on an eclectic range of topics, including African-American sheet music, temperance and prohibition, Abraham Lincoln, and military artwork.
Vanderbilt Television News Archive
Provides abstracts of the contents of American nightly news programs dating back to 1968. For a substantial fee, you can have the clips sent to you on DVD/VHS.
Contains more than 300 commercials, from every presidential election since 1952, when Madison Avenue advertising executive Rosser Reeves convinced Dwight Eisenhower that short ads played during such popular TV programs as I Love Lucy would reach more voters than any other form of advertising. This innovation had a permanent effect on the way presidential campaigns are run.
A collection of political cartoons related to presidential politics from 1860 to 1912.
A project that intends to create a significant, fully searchable online database of spoken word collections spanning the 20th century, currently including collections on modern American history: interviews with Studs Terkel, matters related to the Supreme Court, the Flint Sit-Down Strike, and miscellaneous other political issues.
From Revolution to Reconstruction
A large collection of documents relating to American political history dating back to the Magna Carta and up to George W. Bush's last inaugural address.
A collection of primary sources on American history in general, with special focuses on court cases, historical newspapers, landmark documents, social history, and ethnic voices. It also includes a very valuable set of links to museums, archives, and Presidential Libraries across the US and to important historical journals.
Contains over 8000 hours of audiotapes. These recordings date from the late-60s to the mid-90s and chronicle the progressive history of the Bay Area, the United States, and international solidarity movements. The collection includes weekly news/ poetry/ music programs broadcast on several educational radio stations; in-depth interviews and reports on social and cultural issues; diverse activist voices; original and recorded music, poetry, original sound collages; and an extensive La Raza collection.
It's About Time: Black Panther Party & Legacy
A site committed to preserving and promoting the legacy of the Black Panther Party (BPP), with documents related to the actions and programs of the BPP.
Black Thought and Culture (Alexander Street Press)
Approximately 100,000 pages of non-fiction writing by leading figures in African American life and culture, including Frederick Douglass, W.E.B. Du Bois, Ida Wells, A. Phillip Randolph, Martin Luther King, Jr., Jesse Jackson and hundreds of others. Particular care has been taken to index this material so that it can be searched more thoroughly than ever before. Where possible the complete published non-fiction works are included, as well as interviews, journal articles, speeches, essays, pamphlets, letters and other fugitive material. Black Thought and Culture also includes previously unpublished materials such as interviews from the Columbia University Oral History Project and a full run of the Black Panther newspaper. From off campus the login is: reviewer and the password is: 5investigations53.
Black Studies Center (Chadwyck-Healy)
Comprised of three separate databases. 1) Schomberg Studies on the Black Experience offers in-depth, scholarly essays on a wide range of subjects, often accompanied by timelines, images, video clips, etc. 2) International Index to Black Periodicals provides citations and abstracts to articles in scholarly journals and newsletters from Africa, the Caribbean and the United States, plus the full text of articles from core Black Studies periodicals. 3) The fulltext of the Chicago Defender from 1910 to 1975. Login with: rutgers. Password is: t3sting.
Developed at the New York Public Library's Schomberg Center for Research in Black Culture, this database provides citations (no abstracts, no fulltext) to articles in over 150 journals, magazines and newspapers from 1948 to 1986. Login: BLKS. Password: TRIAL.
A companion to Africans in America, the six-hour public television series. The website chronicles the history of racial slavery in the United States -- from the start of the Atlantic slave trade in the 16th century to the end of the American Civil War in 1865 -- and explores the central paradox that is at the heart of the American story: a democracy that declared all men equal but enslaved and oppressed one people to provide independence and prosperity to another. Provides informational summaries, primary sources, and teaching guides.
Freedmen & Southern Society Project
Through documents captures the essence of emancipation by depicting its drama in the words of the participants: liberated slaves and defeated slaveholders, soldiers and civilians, common folk and the elite, Northerners and Southerners.
Documenting the American South
A digital publishing initiative that provides Internet access to texts, images, and audio files related to southern history, literature, and culture. Currently DocSouth includes thirteen thematic collections of books, diaries, posters, artifacts, letters, oral history interviews, and songs.
Southern Foodways Alliance Oral History
Seeks to capture stories of Southerners who grow, create, serve, and consume food and drink and includes investigations into the history and significance of regional cuisines (BBQ, gumbo, boudin, tamales, wine) as well as focused projects on each state in the South. For Mississippi, that includes Biloxi's shrimping industry and restaurants in Greenwood, Greenville, and Oxford.
USDA Economic Research Service
An essential source for historical data on the state of rural America and food systems.
Contains more than 10 million documents (50+ million pages) created by major tobacco companies related to their advertising, manufacturing, marketing, sales, and scientific research activities.
Chronology of US Historical Documents
Collection of documents important for the development of American law and politics from the Magna Carta to President Obama's inauguration speech.
A fully searchable collection of images and exhibits covering the American Eugenics Movement.
The Campus Files: Reagan, Hoover, and the University of California Red Scare
San Francisco Chronicle special report compiling sources on the FBI, the Red Scare in California, and the political career of Ronald Reagan.
Smithsonian National Museum of the American Indian
The online collections of the Smithsonian relating to the history of American Indians. Includes archaeological and ethnographic materials relating to the ways Indians lived in the distant past, various collections of art, and even images relating to American Indians today.
Historical Society of Pennsylvania
Among teaching plans designed for elementary and secondary teachers, the HSP has includes collections of primary sources on on Interethnic Relations. Included in this are an impressive number of valuable sources relating to Native American-European contact, the French and Indian War, and Nativism. The site also includes online exhibitions on various topics relating specifically to Pennsylvanian history, including the abolition movement, immigration, women's history, and Japanese-American internment.
Currently provides access to over 471,000 historical documents that form the constitutional, legal, legislative, judicial, and administrative basis of Maryland's government.
Maryland Historical Society's On-line Collections
Includes online exhibits of music history, the history of currency, photographs, and paintings.
NYC History Resources on the Web
A wide range of materials related to the history of New York City.
US Civil War
A digital archive that chronicles everyday life in two rural communities, one northern and one southern, before, during, and after the Civil War. Containing thousands of original letters, diaries, newspapers, speeches, census and church records from Augusta County, Virginia and Franklin County, Pennsylvania, the website provides a valuable resource for investigating how the Civil War shaped the lives of regular folks.
Secession Era Editorials Project
Collection of editorials commenting on four crucial events leading up to the Civil War (Nebraska Bill debates, Sumner's caning, the Dred Scott decision, and John Brown's Raid on Harper's Ferry).
Lincoln/Net and Abraham Lincoln Online
Provide collections of textual, visual, video, and audio primary sources relating to the life and legacy of Abraham Lincoln.
Tremendous collection of links from McGraw-Hill's online accompaniment to McPherson's Ordeal by Fire.
Shotgun's Home of the American Civil War
Eclectic collection of materials related to the Civil War.
Three Speeches from Frederick Douglass
Transcripts of three important speeches by the leading campaigner for the end of slavery in the US.
World
Collection of primary sources and teaching modules.
A History of the World in 100 Objects
A co-production of the BBC and the British Museum, this invaluable resource uses 100 objects to follow the course of human history from the emergence of humanity to the present-day. Produced as a podcast, the website has images of the objects plus additional resources.
A project of the University of Pittsburgh designed to create a set of data for the past five centuries that can allow global comparisons on economic and social trends in particular. Although still in its infancy, the working group has started by providing links to local historical datasets from all around the globe that are currently freely available but perhaps hard to locate.
Vast collection of writings by important individuals in international Marxism.
A collection of resources on created sites of historical memory, places where people have constructed reminders of past events, usually tragedies. Includes general articles on how to consider such sources as well as images from all around the world.
Peace and War in the 20th Century
An eclectic collection of sources relating to war and various peace movements in the 20th century.
A collection of excerpted writings from women throughout world history as well as links to alternate translations and to other similar collections.
Trans-Atlantic Slave Trade Database
Has information on almost 35,000 slaving voyages that forcibly embarked over 10 million Africans for transport to the Americas between the sixteenth and nineteenth centuries.
Understanding Slavery Initiative
A website designed to help elementary and secondary teachers create lesson plans on slavery, and it includes a valuable collection of artifacts that students can use for their research.
A limited collection of "highlights" from the ISM in Liverpool, England. Includes images of archaeological artifacts relating to life in West Africa, enslavement and the Middle Passage, and the legacies of slavery.
A comprehensive collection of official documents related to the United Nations.
Europe
Comprehensive wiki providing links to primary sources relating to all of Europe available on the web. Also links to other primary source databases
European History Primary Sources
An index of scholarly websites that offer online access to primary sources on the history of Europe. The websites listed on EHPS are not only meta-sources but also include invented archives and born digital sources. Each website that is listed in EHPS has a short description and is categorized according to country, language, period, subject and type of source. The portal can be searched in a variety of ways. The listed websites can be accessed for free, though sometimes a registration is required.
A comprehensive collection of official documents, legislation, and archived material produced by institutions and bodies of the European Union.
A massive database of collections from museums and libraries across Europe. Sort of a Google Books for European museum collections.
A huge collection of historical documents relating to the history and present of the European Union.
The Society for Medieval Military History's website contains, among other things, a collection of valuable primary sources in English translation, all of which deal with warfare in the Middle Ages.
Germany
German History in Documents and Images
A comprehensive collection of primary source materials documenting Germany's political, social, and cultural history from 1500 to the present.
A collection of links to primary sources on modern German history.
Harold Marcuse's German History Links
Links assembled by Professor Harold Marcuse (UC-Santa Barbara), an specialist on the Holocaust as well as the presentation of history on the internet. Also includes links to online archives of newspapers in a variety of languages (including English).
Images and documents relating to propaganda from Nazi Germany and East Germany.
Bund Deutscher Mädel -- A Historical Research Page and Online Archive
A site devoted to the history of the "League of German Girls," the girls' auxiliary to the Hitler Youth. Provides general visual sources related to the organization as well as some recollections by former members, some of which have been translated into English.
H-German's brief collection of primary sources relating to German history from 1871 to 1945.
United States Holocaust Memorial Museum
Documents, images, video, and registries related to the Holocaust.
Yad Vashem Digital Collections
Large collection of materials relating to the Holocaust, including names databases, online photo archives, and a massive online library.
A site dedicated to all the women murdered in the Holocaust, to those women who tried to help, and to those few who survived. Has personal reflections, testimonies, poetry, and bibliographies, among other resources.
Great Britain
The National Archives (UK) DocumentsOnline
Excellent collection of British public records on all areas of the history of Britain and its empire.
A collection of brief secondary articles and assorted primary sources (documents, images, audio, video) on all periods of British history as well as assorted topics in ancient European history.
An unparalleled collection covering all aspects of twentieth and twenty-first century conflict involving Britain and the Commonwealth, including a fully searchable online database.
Over 200,000 images covering a broad range of topics and subject areas which, although coming under the umbrella classification of history, in fact, extend far beyond most people's perception of historical pictures.
The Illingworth Cartoons Exhibition
Illingworth was a prominent British cartoonist between 1939 and 1969, and this collection in the National Library of Wales assembles 4,563 images that cover a wide array of topics, in particular World War II, postwar domestic politics, and the Cold War.
Has several thousand pages of Victoriana, available free to the general public.
Provides a wealth of material covering almost every aspect of the life and career of W.T. Stead, one of the most controversial men of his age.
The world's largest public repository of Ripper-related information, including testimony, letters, official documents, press reports, and a photo archive.
National Maritime Museum Collections Online
A large sampling of artifacts and images held by the National Maritime Museum in Greenwich, providing a fascinating look at all things maritime, from technological innovations to the impact of long-distance travel and cultural contacts. Has online exhibits on such topics as the Atlantic world, slavery, Benjamin Franklin, Admiral Nelson, the Northwest Passage, and telescopes.
France
The Encyclopedia of Diderot & d'Alembert
English-language translations from the classic text of the French Enlightenment.
Brown University Center for Digital Initiatives
Fascinating collections including a set of satires of Napoleon Bonaparte from across Europe.
Soviet Union
The Harvard Project on the Soviet Social System
A collection of interviews of post-WWII DPs from the USSR on all aspects of life in Stalin's Soviet Union. All the interview transcripts are available in Russian and English, and it is searchable. It is a great source for anyone interested in the social history of the Stalin era.
Revelations from the Russian Archives
A collection on the Library of Congress's website of newly available archival documents concerning many different aspects of Soviet history (the Great Terror, the Ukrainian famine, the origins of the Cold War, Soviet-American relations, etc.,). It is fully translated and easy to use.
Cold War International History Project (at the Woodrow Wilson Center for International Scholars)
A wealth of translated archival documents on all aspects of the Cold War.
Seventeen Moments in Soviet History
Includes film clips, documents, images, and blurbs on the most important events and phenomena of Soviet history.
Asia
A grand project sponsored by Columbia University and its Weatherhead East Asian Institute to make available for teachers materials relating to East Asian history through the ages. Topics include geography, the Chinese cosmos, the grandeur of the Qing dynasty, the relationship with Europe (which was more modern and powerful?), the Song dynasty, and the Mongols in world history.
Stefan Landsberger's Chinese Propaganda Poster Pages
A nice collection of some 2,000 political propaganda posters, spanning almost six decades of Chinese poster production.
"Serve the People": Images of Daily Life in China during the Cultural Revolution
A collection of photographs taken in March-April 1972, when the photographer was a participant in the second delegation of the Committee of Concerned Asian Scholars (CCAS) to the People's Republic of China (PRC). An insightful look into daily life during the Cultural Revolution supplemented with links to other sources on the Cultural Revolution.
Ming History English Translation Project
A collaborative project to make available translations of portions of the Mingshi, or the Official History of the Ming Dynasty. The Mingshi was presented to the Qing throne in 1736 and published in 1739. Compiled from materials collected over the course of the Ming (1368-1644) and after, it contains valuable information on Ming government, society, and prominent individuals. Students and scholars are welcome to use the translations presented here under the terms of the Creative Commons license stated at the top of each translation.
International Dunhuang Project: The Silk Road Online
Fascinating project sponsored by the British Library (with assistance from other national libraries and research centers in Britain, China, France, Russia, Japan, and Germany) that makes available images and some documents in translation from the vast finds at Dunhuang, which provide an unparalleled glimpse into the workings and importance of the Silk Road.
Latin America
Sources and General Resources on Latin America
An index site that assembles a vast number of links to sources on Latin America.
FAMSI (Foundation for the Advancement of Mesoamerican Studies)
Extraordinary collection of secondary resources to complement extensive digitizations of materials like photographs of sites and murals and Mayan codices. Would likely require additional secondary sources but, if you have those, this site provides an invaluable look at the actual products of pre-conquest Mesoamerica.
Links historical maps of the Americas, especially Latin America.
Collection of links to online documents relating to Cortés's conquest of Mexico, including writings by the conquistador himself, by Bernal Diáz, and from indigenous sources. Not recently updated, and thus some links are broken.
Reproduction and detailed reading of the Codex Boturini, one of the few remaining pre-conquest accounts of the rise of the Aztec empire, with images of the last 4 pages.
Africa
South Africa: Overcoming Apartheid, Building Democracy
Presents first-hand accounts of the struggle to end apartheid, including interviews with South African activists, raw video footage documenting mass resistance and police repression, historical documents, rare photographs, and original narratives.
African Online Digital Library
A portal to multimedia collections about Africa, with particular emphasis on political activism.
World Wars
Our world has been shaped by two all-consuming conflicts - and by a global superpower stand-off that brought the world to the brink of destruction. Explore this in-depth content from the BBC.
Contains over 6,500 items contributed by the general public between March and June 2008. Includes poetry, photographs, audio and film clips, and relevant publications.
A multimedia history covering all aspects of World War I.
The World War I Document Archive
An archive of primary documents from World War One been assembled by volunteers of the World War I Military History List.
100 paintings from international collections to commemorate the 80th anniversary of the end of the First World War.
Poetry and postcards on the Great War.
World War I: Documenting the First Total War of the 20th Century (Yale University)
Links to a series of World War I primary source websites.
Collection of movies, radio broadcasts, newsreels, speeches, and thousands of photos relating to the Second World War. Much is available for free, but you must register for all content.