Honors Forum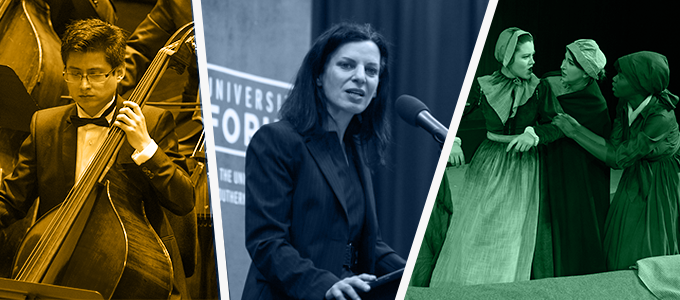 Honors Forum (Honors 321) is a one-credit hour course that will expose you to the wide variety of cultural and scholarly experiences that take place at the university.
The curriculum changes every semester, but students in the class regularly attend plays and symphonies, poetry readings and talks by social workers, scientists, journalists, and a host of other scholars from around the nation and the world.
You will earn credit by attending three required University Forum lectures, four additional required events, and three electives selected from an approved slate of scholarly and cultural events happening in Hattiesburg and its environs. Required events are (almost) always scheduled on Tuesday evenings.
All first-year and second-year Honors College students are required to take the course, but any student enrolled at Southern Miss is welcome. The class can be repeated for up to eight hours.
University Forum is directed by Dr. Andrew P. Haley (Associate Professor in History) with the assistance of a graduate teaching assistant and members of the Honors College staff.
For questions about HON 321, please contact us at honorforum@usm.edu.
If you are enrolled in the course, you can check out the syllabus and elective offerings by logging into your Canvas account.