University Forum 2017-8

Please wait a moment while we redirect you to our new web page!
All University Forums are at 6:30 p.m. and are free and open to the public.
Up Next
September 5, 2017
James McBride
National Book Award Winner
The Good Lord Bird: A Talk and Musical Performance Exploring Faith & American Slavery
Bennett Auditorium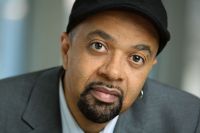 James McBride is an award-winning author, songwriter, and screenwriter. His memoir, The Color of Water, spent two years on The New York Times bestseller list and his novel, The Good Lord Bird, was the 2013 recipient of the National Book Award. His musical compositions have earned him the American Music Festival's Stephen Sondheim Award and the American Arts and Letters Richard Rodgers Award. When he was presented with the 2015 National Humanities Medal by President Barack Obama, he was applauded for "humanizing the complexities of discussing race in America" and for "his moving stories of love" that "display the character of the American family." One of America's most distinguished writers and musicians, James McBride will bring his Good Lord Bird Band to Southern Miss to present a special night featuring material from the novel and music inspired by the life of John Brown.
Forum Schedule
Septempber 5 in Bennett Auditorium
James McBride and the Good Lord Bird Band
National Book Award-winning author of the Good Lord Bird, James McBride will speak about faith and American slavery when he visits the University Forum. And, the accomplished composer, will perform music inspired by the life of John Brown with his jazz band.
October 24 in Bennett Auditorium
Dan-el Padilla Peralta
Author of Undocumented, Dan-el Padilla Peralta rose from poverty as an undocumented immigranted from the Dominican Republic to become a classics professor at Princeton. He will share his story with the University Forum.
November 14 in Thad Cochran Ballrooms
Yuval Levin
Yuval Levin, the founding editor of National Affairs and a leading conservative intellectual, will speak about the failures of both the left and right to craft a message for our time.
February 20 in Bennett Auditorium
John Asher Johnson
The Harvard astronomer, John Asher Johnson, leads a program that introduces black and Latino students to science. He will speak about racial progress in the sciences.
March 6 in Bennett Auditorium
Angie Thomas
Mississippi writer and author of The Hate U Give is bringing the themes of the Black Lives Matter movement to young adult literature. She will speak about the challenges of activism.
April 10 in Bennett Auditorium
Nicholas Kristof
The New York Times columnist and Pulitzer Prizer winner will speak about sex trafficking, genocide, and other challenges faced by the global community in the 21st century.
And the Armstrong-Branch Lecture on February 27 in Bennett will feature the author of The Butler and Showdown Wil Haygood! To learn more about this year's University Forum and Armstrong-Branch Lecture, visit Southern Miss Now.