Why Honors?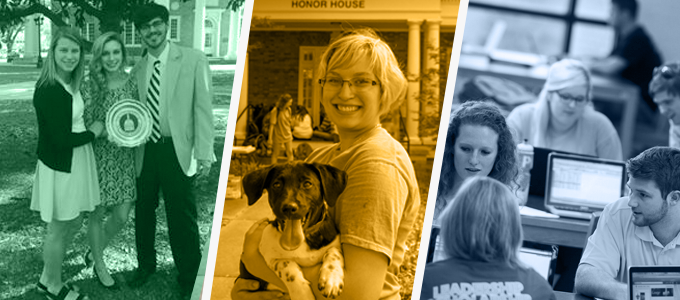 Students choose Honors College at Southern Miss because they want a top-notch education with internationally renowned faculty. But there are a lot of other benefits to being a Southern Miss Honors Scholar. Here are a few:
Classes with Top Professors
Honors College attracts some of the top students in the country—and the top professors at Southern Miss! The faculty who teach honors classes are enthusiastic about the subjects they teach, and also about helping their students succeed. Because of our smaller class sizes, you'll have a chance to get to know your professors as well as your classmates.
Experiential Learning
We believe in learning inside and outside the classroom. Whether it's a voodoo tour of New Orleans, exploring the waters off the Gulf Coast, checking out Hattiesburg's famous Civil Rights sites, exploring a local museum, visiting the CDC in Atlanta, or hunkering down in an archive with a box of historical letters and photographs, Honors Scholars are always on the go!
Scholarships
All students admitted to the Honors College students will receive some form of financial support. Entering freshmen will automatically receive the Honors Scholar Award, and rising juniors will receive the Honors Keystone Scholar Award when they begin the keystone curriculum. In addition, students with a composite ACT score of 30 or above will be placed into competition for the Honors College Discovery Scholarship and the Honors College Presidential Scholarship. Visit our Scholarships page for more information.
Community of Leaders
The Southern Miss Honors Pledge begins: "As a member of the University of Southern Mississippi Honors College, I commit myself to serve as a leader and role model in the university community, maintaining high standards of academic integrity, personal conduct, and campus citizenship." Our students take that seriously. As an Honors Scholar, you'll be taking classes with other students who believe in their responsibility to be good citizens on and off campus, forging friendships and connections that will last a lifetime.
Latin Distinction
Students who complete honors requirements with a 3.25 or higher cumulative GPA will graduate with Latin Distinction: cum laude (3.25-3.49), magna cum laude (3.5-3.79), or summa cum laude (3.8 or higher). Graduating students will be given a special Honors College Medallion and are recognized for their achievement during commencement proceedings.
Honors Housing
When you start Southern Miss as a freshman, you'll live with other honors students in Vann Hall, part of our beautiful Century South complex, so there will always be a friend nearby. In addition, as an Honors Scholar, you'll have 24-7 access to the Honor House student lounge, which has a coffee maker, a popcorn popper, games, comfy chairs, and the computer room, which houses several computers and a printer.
Priority Registration
You'll get into more of the classes you want with priority registration, a special early-enrollment window for Honors Scholars.
Honors Academic Advisement
One of the major benefits of Honors College membership is the careful attention and guidance provided to Honors Scholars by our academic advisors, who'll help you select classes, formulate a plan for your research project, find and use Southern Miss and community resources. Expert advisors will also help you to prepare for a career or entrance into graduate, law or medical school.
Undergraduate Research
Why wait until graduate school to start research projects that fascinate you? In the Honors College, we believe students should start now, so we build it into the curriculum. You'll work closely with a thesis advisor over two semesters to find and develop a topic, conduct research, and complete your thesis. To see the work past Honors Scholars have done, visit our archives.
Honors Scholars are also encouraged to showcase their work at our annual Undergraduate Symposium on Research and Creative Activity. Besides being able to share your work with your peers, gain experience in presenting papers at conferences, and adding an impressive line to your resume, there is also substantial prize money to be won!
Faculty Mentors
Our faculty mentors are committed to helping students develop the skills they'll need to complete degree requirements and their honors theses—skills they will use throughout their future careers: the ability to think through complex ideas, write clearly and eloquently, and execute a project of their design.
Study-Abroad Scholarship Access
Our students come back from Southern Miss Study Abroad programs reporting that it was the best time of their lives, and helped them not only appreciate the countries they traveled to, but also develop a new appreciation for home. Honors Scholars are highly encouraged to study abroad, and we'll do everything we can to help you locate scholarships to make your trip affordable.
Nationally Competitive Awards Office
There are a plethora of national awards out there, and we want to make sure our students earn as many as possible. The Office of Nationally Competitive Awards, housed in the Office of Undergraduate Scholarships, helps students identify awards and prepare the strongest applications possible for scholarships to assist with the cost of study abroad, research or graduate school.