Birds
Lake Thoreau Environmental Center is host to a multitude of bird species throughout the year. As of August 2014, biology faculty, graduate and undergraduate students, staff and visitors have identified 105 species at our nature center.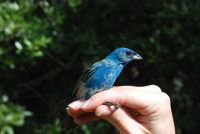 To see which species have been identified, please see our Bird Species List, or head out to Lake Thoreau!
We would also like to thank the Audubon Society for providing our nature center with a viewing tower on the Southeast section of Lake Thoreau. Our Audubon tower is a great place to view birds flying into the lake or wetland areas, and is sure to provide a relaxing experience. Thanks, Audubon Society!
We are also compiling a photo gallery of birds found at Lake Thoreau. Please check back with us as we finish this project.