Environmental Education
OUTSIDE: Over Under and Through, Students Informally Discover the Environment
Principal Investigators: Dr. Kristy Daniel (Halverson) & Dr. Aimée K. Thomas. For all members of this project, please see OUTSIDE's research team page.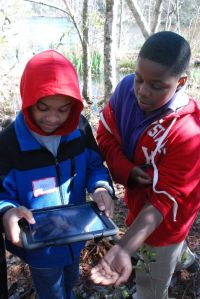 OUTSIDE is a descriptive study focusing on an informal environmental education program for underrepresented middle school students in Mississippi. OUTSIDE incorporates the use of iPads with a site specific, content based application (GO app) as a way to get students engaged in learning.
The project is a collaboration among the University of Southern Mississippi's Biological Sciences Learning Center, the Lake Thoreau Environmental Center, and the Mississippi Museum of Natural Science. Through the partnerships, we have developed 1) a naturalist training program for volunteers, 2) a research program to capture patterns in interactions and learning among students and naturalists using an ethnographic approach, and 3) nature programs for informal experiential learning opportunities at Lake Thoreau Environmental Center.
OUTSIDE helps advance the informal science education (ISE) field by 1) providing empirical support for pedagogical decision making among environmental educators, 2) providing educational outreach to underrepresented and underserved STEM learners in high needs communities, 3) offering insight into how ISE professionals can leverage local resources and embed sustainability in project designs, and 4) developing technology that can serve a broader community. For more information, please visit their research page.