Ichthyology Collection at the Natural History Collections Building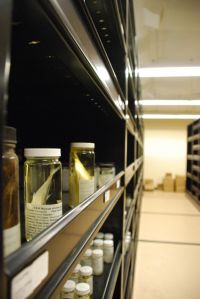 The ichthyological collections at USM contain over 70,000 cataloged lots and support a variety of research and education needs. The collection is split among the Hattiesburg (primarily freshwater) and Gulf Coast Research Lab (GCRL; primarily estuarine and marine) campuses. The majority of the freshwater collection was collected and cataloged by Dr. Stephen T. Ross and his students from 1974 until 2004. By 1998, the collection contained a total of 20,325 lots and a large uncurated backlog from Black Creek and Horn Island, as well as larval collections from a variety of sources. At that time, Dr. Ross and Dr. Stuart G. Poss (former curator at GCRL) received National Science Foundation (NSF) funding to process the backlog of material and improve the overall curation of the collections. The collection was improved by: 1) cataloging backlogged material into both USM collections, 2) installing new shelving and storage infrastructure, and 3) transfer lots from 45% isopropyl to 70% ethanol at Hattiesburg. By the end of the project in 2001, a total of 7,200 new lots had been cataloged and the entire collection is now stored in 70% ethanol.
The Hattiesburg collection continued to grow under the direction of Dr. Ross until his retirement in the spring of 2004 at which time the collection held approximately 28,000 lots. The collection continues to grow at a rate of about 1,500 cataloged lots per year and continues to grow. By 2007 the continued growth had nearly filled all available space. The current curators of the collection (Dr. Jake Schaefer at Hattiesburg campus and Sara LeCroy at GCRL) have received NSF funding (along with generous support from the College of Science and Technology and the Department of Biological Sciences) to again improve the collection, which was moved to Lake Thoreau Environmental Center's Natural History Collections Building in 2013.
Current Collection Statistics
72,798 Total lots

>800,000 Specimens

10,500 Total sites

4,525 Total taxa
This collection has been catalogued in an online database and can be accessed in multiple ways:
To learn more about USM's Ichthyological collections, please visit their website.