Weather Station
The Lake Thoreau weather station provides research-grade, near real-time environmental data to the USM campus community. For all sensors, 1-minute averages are logged and transmitted via a cellular modem to display centers located in Walker Science Building (USM main campus), as well as the Lake Thoreau Environmental Center (forthcoming). Students and faculty alike have access to these data, which helps support a wide variety of environmental research at Lake Thoreau. The specifications of the station are below: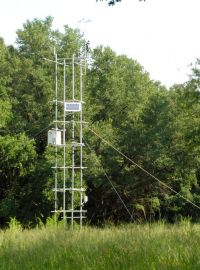 Sensors:
RM Young 05103 - Wind monitor (wind speed and direction)
Campbell NR-LITE2 – net radiometer
Rotronic HygroClip2 HC2s3 – Temperature and RH probe
Vaisala PTB110 CS106 – Barometer
Texas Electronics TE525WS – 0.01 inch tip, rain gauge
Power:
Campbell SP20 solar panel
Campbell CH100-SW regulator
Campbell BP 24 12v sealed battery
Communications:
Campbell CR800 Datalogger
AirLink – Raven XTG GPRS Cellular modem
Lightning protection:
Lightning Master Candelabra Air Terminal 72" (LM-CA-72C) – static dissipater
This station was made possible through joint funding from USM Department of Geography and Geology, USM Department of Biological Sciences, USM College of Science and Technology, USM Office of the Vice-President for Research, and a grant from the Aubrey and Ella Lucas Endowment for Faculty Excellence. Dr. Andy Reese, Professor and Interim Chair of the Department of Geography and Geology at The University of Southern Mississippi, currently oversees this station.