British Studies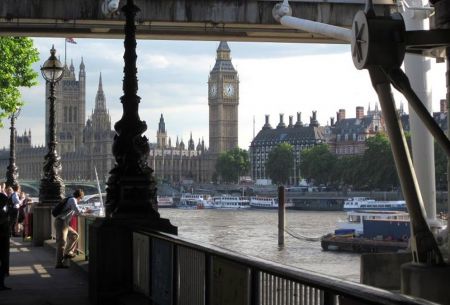 Scenes from British Studies, 07-18.pdf (Photo by Dr. M.R. Griffis)
LIS 580/587: British Libraries, Archives, and Special Collections

"This royal throne of kings, this sceptered isle.
This blessed plot, this earth, this realm, this England."
Shakespeare, King Richard II, Act 2 scene 1

6 Graduate Credit Hours: BSP LIS Syllabus 2019.pdf
LIS 580. British Studies in Librarianship. 3 hours. Comparative or historical studies of library and information institutions, collections, models of service, or professional practice in the United Kingdom.
LIS 587. British Studies Research. 3 hours. Provides the opportunity for an in-depth research paper using the resources of metropolitan London and/or the United Kingdom.
Course Information
Have you ever dreamed of being in the 'sceptered isle' of Chaucer, Shakespeare, Kipling, Lewis Carroll, C.S. Lewis, Jane Austen, and J.K. Rowling - of strolling along the Thames or through the verdant British countryside?
Spend a month in the United Kingdom earning credit while learning about historic and modern British libraries, archives, and special collections on-site from distinguished British librarians, archivists, and information specialists.
Students have the opportunity to accompany faculty to sites such as Oxford and Bletchley Park - and time to explore sites of interest on their own. Students and faculty will stay at the University of Westminster Marylebone Hall dorm in London, which is across the street from Madame Tussaud's and a five-minute walk from Regent's Park.
In addition to participating in scheduled lectures and tours, students are required to submit book reviews and a reflective journal for LIS 580 and research paper on an approved topic for LIS 587.
Note: This program includes extensive walking and taking stairs. There are also crowds in public transportation (buses and tube) and public attractions. The climate difference tends to affect allergies.
Student Articles on British Studies
Application

All students who are U.S. citizens must have a valid passport. Non-U.S. citizens are responsible for obtaining any additional documents required for entry into the U.K. Contact the nearest U.K. consulate for information.
Registration is handled through the Southern Miss Office of Study Abroad so questions about course registration or fees should be directed to them (phone: 601-266-4344, email: studyabroad@usm.edu). Questions about required assignments, academic credit, or grades should be directed to the course faculty.
Visit or apply at British Studies Program at Southern Miss to find out more about studying abroad and the application process for British Studies.

Financial Aid
Students who are accepted for participation in the British Studies Program may apply for financial aid if they meet federal requirements for a Guaranteed Student Loan.
Southern Miss students requiring financial aid should contact the British Studies Program Office before requesting a summer study-abroad financial aid application from the university's Financial Aid Office.
Summer Pell Grants, faculty/staff dependent scholarships, faculty/staff tuition waivers, and graduate assistantships are also accepted. Students are advised to begin the financial aid process well in advance of these deadlines.
Non-Southern Miss students should apply for financial aid through the school in which they are currently enrolled and seeking a degree. Financial aid agreements between Southern Miss and other schools are available if requested. If more information is needed, contact the Southern Miss Office of Study Abroad at (601) 266-4344.
British Studies Class Blogs
Contact
Dr. Teresa Welsh, teresa.welsh@usm.edu