Founder's Page
Frank R. Day
Frank Rogers Day, former chairman of the board and chief executive officer of Trustmark National Bank, had a heart for young people and a desire to help them succeed. Until his death in 1999, Mr. Day provided scholarships anonymously through The Luckyday Foundation for eight Bailey Magnet School students. His goal was to provide deserving high school students who otherwise had little chance for a college education with the opportunity to continue their education at a major university like The University of Southern Mississippi.
The Luckyday Foundation, which was established by Frank R. Day, will continue his legacy by funding the Luckyday Foundation Citizenship Scholars Program at The University of Southern Mississippi. The program provides scholarships in the amount of $6,000 to about 80 incoming students each year. The program targets Mississippi high school seniors who are outstanding citizens, exemplary students, and people committed to continued involvement in community service. In total, there are about 425 Luckyday Scholars currently studying at Southern Miss.
Frank R. Day, a native of Aberdeen, was a graduate of The University of Mississippi and the Graduate School of Banking at Louisiana State University. Frank Day was an intensely private man. His work with the Boys and Girls Club of Metropolitan Jackson was well known, but he wanted his involvement with the Luckyday Foundation scholarships to Bailey Magnet School, students to be kept strictly confidential. Only following Day's death on December 6, 1999, did his family and the Luckyday Foundation board agree to reveal the identity of the Bailey scholars' benefactor.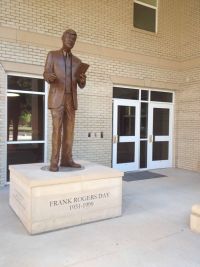 On August 1, 2014, the installation of a bronze statue of Frank R. Day completed the entryway into the Luckyday Program office on the bottom floor of Vann Hall. The seven and a half foot statue reminds students of a man who worked hard, knew the value of a dollar, and made it one of his missions to help students in Mississippi attend college.