The Golden Eagle Veteran Network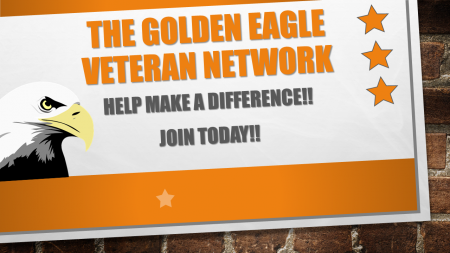 USM Center Launches Golden Eagle Veteran Network
Main Content
Article | Wed, 02/07/2018 - 9:49am | By Van Arnold
The University of Southern Mississippi Center for Military Veterans, Service Members and Families has launched a new program – the Golden Eagle Veteran Network – designed to create a resourceful bridge between the University's student-veterans and the Hattiesburg community.
The initiative's objective is to build a community of friends, organizations, alumni and businesses interested in actively supporting the University's student-veterans as they transition from military service to higher education.
"We want to be the top university of choice for military students and to do so we must constantly adapt and create options to enhance the overall educational professional development experience," said Maj. Gen. (ret.) Jeff Hammond, who serves as the center's director.
In developing the Golden Eagle Veteran Network, Hammond notes that the center has consulted with a variety of constituents that include, the Student Veterans of America; local South Mississippi VFWs and American Legions; Commiskey-Wheat Marine Corps League; Armed Forces Top Enlisted Association (Magnolia Chapter) and numerous USM leaders.
"In seeking new and original ideas, we have also consulted with other universities that maintain progressive and successful military student programs," said Hammond. "We believe that such a community outreach focus program will go a long way in creating a 'community of communities' with common interests. And foremost that being the future of USM student-veterans."
The Golden Eagle Veteran Network plans to partner with individuals, groups, and businesses through:
Events and activities

Career and networking opportunities

Community service

Support to the USM chapter of the Student Veterans of America

Student recruitment and enrollment

Mentoring

Expanding University presence across local, national, and international communities

Providing a direct communications link between student-veterans and constituents.
For more information about the center, call 601.264.4629 or visit: www.usm.edu/military-veterans