About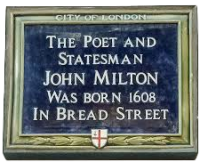 "Milton for Mississippi" aims to provide Mississippians with access to Milton's genius throughtwo public lectures, numerous radio recordings of Milton's poetry and other works, a participatory reading of his epic Paradise Lost, and a permanent website.
Paradise Lost, Milton had joined together the best features of the Greek and Latin poetry, represented by Homer and Vergil.
Three Poets, in three distant Ages born,
Greece, Italy, and England did adorn.
The First in loftiness of thought surpassed;
The Next in Majesty; in both the Last.
The force of Nature could no farther go:
To make a third she joined the former two.*
John Dryden, "Epigram on Milton," [1688]
*At the time, two rhymed with go.
It proves a gripping read; one almost feels as though one is watching a movie. In fact, the early cinematographer Sergei Eisenstein claimed to have learned filmmaking from reading Paradise Lost.
Those reading it aloud will notice how closely the sound of his poetry matches its sense. Perhaps that connection is little wonder, as Milton was also trained in music, and some of his poems have been set to music.
But Milton also wrote important texts on such civil issues as freedom from tyranny and the separation of church and state, taking stands that have particularly endeared him to us in America. His words are written on library walls and rotunda across the country.
Our state of Mississippi, richly endowed as it has been with great literary talent, will surely appreciate a better acquaintance with Milton.
"Milton for Mississippi" is a program presented by Jameela Lares, Professor of English at The University of Southern Mississippi and the Charles W. Moorman Distinguished Professor of the Humanities for 2017-19. She is the author of Milton and the Preaching Arts (2001), A Variorum Commentary on the Poems of John Milton, Volume 5, Part 8, Paradise Lost, Books 11-12 (2012), and a forthcoming edition of Milton's Artis Logicae Plenior Institutio for the Clarendon edition of the complete works of Milton (Oxford University Press), along with numerous articles on seventeenth-century religious discourse.
---
The Moorman Professorship is made possible by the USM Foundation, through a matching grant from the Phil Hardin Foundation. It honors Charles W. Moorman, a longtime Southern Miss professor of English and Vice President for Academic Affairs in the 1970s. The professorship is awarded biennially for a two-year term to a senior professor in English, history, foreign languages, or philosophy.