2018-19 SEASON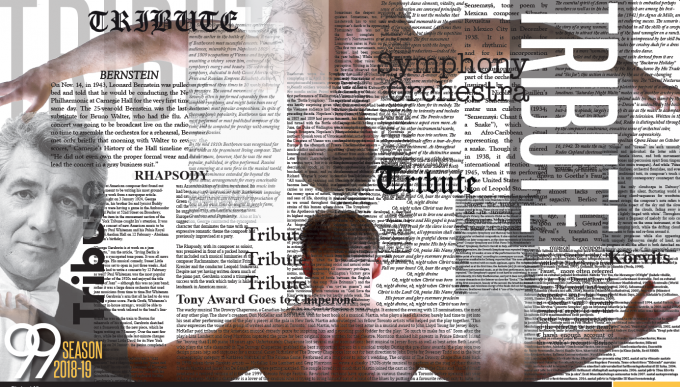 TRIBUTE
The USM Symphony Orchestra
99th Season | 2018-19
Opening night!
BERNSTEIN!
Michael Miles, conductor
Michael Bunchman, piano
October 4, 2018, at 7:30 p.m., Bennett Auditorium
TICKETS 601.266.5418, 800.844.8425

Buy Tickets
In the opening night gala, the Symphony pays tribute to the greatest American-born musician, Leonard Bernstein, in honor of the 100th anniversary of his birth. Tonight we pay homage to Bernstein's contributions as a composer, performer, and teacher. Featuring his own compositions, works that he loved to perform, and the final symphony he conducted at his beloved Tanglewood, we celebrate his legacy and that of the USM Symphony Orchestra's 99th season.
Bernstein - Overture to Candide
Gershwin - Rhapsody in Blue
Beethoven - Symphony No. 7
---
¡VIVA MEXICO!
Jorge Perez-Gomez, conductor
Marcos Machado, bass
November 8, 2018, at 7:30 p.m., Bennett Auditorium
TICKETS 601.266.5418, 800.844.8425

Buy Tickets
Exotic tunes and ancient culture musically intertwine in this exciting evening of music. Guest conductor Jorge Perez-Gomez takes to the podium with Southern Miss faculty artist Marcos Machado on bass to ignite beautiful folk melodies and driving rhythmic sensations that will whisk the audience away on a musical journey.
Tan Dun - Wolf Totem
Moncayo - Huapango
Revueltas - Sensemaya
Marquez - Danzon No. 2
---
FUTURE STARS GOES POPS!
Michael Miles, conductor
February 28, 2019, at 7:30 p.m., Bennett Auditorium
TICKETS 601.266.5418, 800.844.8425

Buy Tickets
Honoring the memory of William T. Gower, this annual concert celebrates the winners of the annual competition in performance with the Symphony. The program will also feature more popular fare from the orchestral repertoire as the orchestra performs two works that are sure to please everyone's palate.
Berlioz - Hungarian March from Damnation of the Faust
Copland - Four Dance Episodes from Rodeo'
---
Season finale!
MUSIC OF THE NIGHT
Michael Miles and Gregory Fuller, conductors
April 30, 2019, at 7:30 p.m., Main Street Baptist Church
TICKETS 601.266.5418, 800.844.8425

Buy Tickets
The Symphony Orchestra and the Southern Chorale join forces to present two haunting works based on themes associated with the night. Beautiful, haunting and entrancing sounds emerge from the orchestra in works by Impressionist and contemporary composers. When light fades the night truly comes alive in this evocative close to the season.
Debussy - Nocturnes
Kōrvits - Moorland Elegies
---