Albright Claims Diplomacy Rules Change as World Becomes More Complicated
Thu, 10/21/2010 - 09:04am | By: Beth Taylor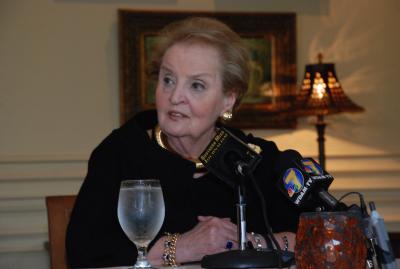 Former U.S. Secretary of State Madeleine K. Albright delivered a lecture on the future of NATO in Hattiesburg on Oct. 19.
As the global citizenry has moved from World Wars to Cold War and now to global terror, it has become more segmented with non-state enemies, explained former Secretary of State Madeleine K. Albright who was in Hattiesburg, Miss. Tuesday to deliver The University of Southern Mississippi's second biennial Lt. Col. John H. Dale Sr. Distinguished Lecture Series in International Security and Global Policy.
Her role as Chair of the Group of Experts on the NATO Strategic Concept was to review the scope of the North Atlantic Treaty Organization (NATO) in the 21st Century and work with other hand-picked experts to make recommendations for its next Strategic Concept. Albright, who was the first female to serve as the United States secretary of state, defines the world as complicated, and the mission of NATO as vital.
"Instead of the United States and Soviet Union as two super powers, nuclear powers, facing each other; we have the United States as the most powerful country in the world along with a lot of other countries that share in responsibility but with no nation as a specific enemy," she said. "The world is more disorganized, the rules are a little harder and it's more complicated."
For that reason, Albright sees the role of NATO as more important, especially in such places as Afghanistan. While Afghanistan is not a member of NATO, it benefits from the military strength and commitment of NATO members. As a result, Albright sees the most powerful military alliance as now the foremost political alliance of democratic countries.
"I had a lot to do with the expansion of NATO during my tenure as secretary of state and am again playing a role in reshaping it in a post 9/11 world," said Albright.
Based on the recommendations of Albright's panel, NATO Secretary General Anders Fogh Rasmussen will author a first draft of the new Strategic Concept in time for the next NATO Summit. Once the text has been approved by heads of state and governments, it will become the official NATO Strategic Concept.
The Lt. Col. John H. Dale Sr. Distinguished Lecture Series is a venue for honoring the late Southern Miss professor and head of the Department of Military Science. His daughter, Southern Miss graduate and Hall of Fame inductee Dr. Beverly Dale, created the lecture series to draw attention to his role as not only a military veteran who served in two wars, but also a military leader who understood the need for occupying armies to also serve as peacemakers who must gain the hearts and minds of the conquered. She equates her father's vision with the mission of NATO.
The next installment of the Dale Distinguished Lecture Series is slated for 2012.