Annual Christmas Tree Lighting Scheduled for Dec. 1 on Hattiesburg Campus
Tue, 11/30/2010 - 12:35pm | By: Van Arnold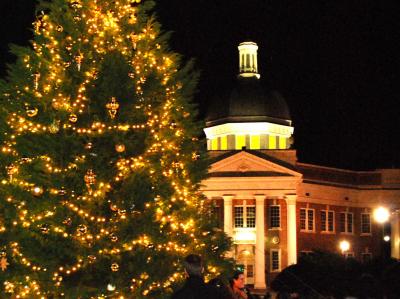 The University of Southern Mississippi's fourth annual "Lighting the Way" celebration will be held Dec. 1 on the Hattiesburg campus. (Submitted photo)
Holiday cheer will be overflowing during the fourth annual "Lighting the Way for the Holidays" celebration on Wednesday, Dec. 1 at The University of Southern Mississippi Hattiesburg campus.
The program gets underway at 6 p.m. with vocal performances by two Southern Miss a cappella groups – the all-male Spirit of Southern Miss and the all-female Southern Belltones. More holiday music will be provided by Miss University of Southern Mississippi Jill Duckworth, members of Presbyterian Christian High School, Chi Omega Sorority at Southern Miss and Joy Kate Lawson of Jackson, who recently won the Mississippi State Fair talent competition.
"What started really as a campus celebration for the holidays has now transitioned into more of a partnership with the community," said Brooks Moore, associate dean of students at Southern Miss. "The turnout has been better each year and we look forward to another great response for what promises to be a wonderful event for the Hattiesburg area."
Those who attend will be treated to free hot chocolate and photos with Southern Miss mascot Seymour, who will be dressed as Santa Claus.
Approximately 30 small Christmas trees adorn the front entrance to the campus, decorated by student organizations and other Southern Miss departments. The 30-foot primary Christmas tree, which features more than 17,000 lights, sits on the front lawn of the Aubrey K. Lucas Administration Building. Avery's Tree Farm in Purvis provided the main tree while the others came from Smith's Christmas Tree Farm in Moselle and Lowe's of Hattiesburg.
The program will culminate with the countdown to the tree lighting by Southern Miss President Martha Saunders and Vice President for Student Affairs Joe Paul.
Moore noted that each year groups that sponsor a tree also raise money to benefit a local non-profit organization or agency. This year approximately $3,000 was collected and will be presented to the Carpenter's Helper, a local housing assistance program for community members.