Area High School Students Participate in Bayer Materials Science Visit
Wed, 10/20/2010 - 14:09pm | By: David Tisdale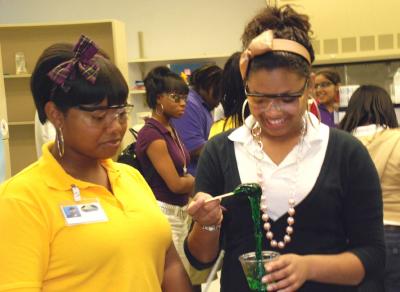 Hattiesburg High School students Brenay Weems, left, and Kimberly Marshall participate in a polymer science experiment producing a slime-textured material that can have multiple applications in industrial and medical products. (University Communications photo by Steve Rouse)
Whether in the production of golf balls, reading glasses or baby diapers, students from two area high schools saw firsthand the far-reaching impact polymers have on their world Tuesday during The University of Southern Mississippi' s Bayer Materials Science High School Program.
Joined by their teachers, the approximately 100 students from Hattiesburg High School and Forrest County Agricultural High School (FCAHS) toured the university's science research facilities, learned about polymers, participated in hands-on demonstrations and engaged in laboratory activities with Southern Miss faculty and graduate students through the program.
Graduate students in polymer science and biology at the university have been working with these students through a five-year, $2.5 million National Science Foundation (NSF) GK-12 grant. The grant supports an outreach initiative in which the graduate students bring their expertise into high school science classrooms, spending 10 hours a week sharing their research through demonstrations, lab activities and projects.
"This kind of program helps high school students connect the dots of the concepts they are learning at their school, and it helps our graduate students learn how to communicate their science research to a non-scientific audience," said Kim Wingo, project manager for the NSF GK-12 program at Southern Miss.
Bobby Cook, a doctoral student in polymer science at Southern Miss, said he enjoys showing students at Hattiesburg High how science can be interesting and fun. His research includes the use of high performance materials in the manufacture of skis and snowboards, applications which he said many people may not have considered.
"It opens their eyes to the wide range of possibilities for careers open to them if they choose to study chemistry and physics, which can include the production process of sports equipment, race cars, airplanes," he said. "It shows them that real people can channel their interests and passion through the sciences."
The hands-on polymer science experiments they participated in included observation of the role of liquid nitrogen in glass transition temperatures; the presence of super-absorbent polymers in everyday household items; and polymer coating applications in the production of golf balls and other commercial products.
In one of the laboratories, the creation of a polymer "slime" substance by mixing polyvinyl alcohol and sodium borate, which has application potential for industrial and medical products, fascinated Hattiesburg High student Brenay Weems.
"It's been a really eye-opening experience," Weems said of her visit to campus. "I've learned a lot of new things today, including the different processes used in making polymer-based materials and all the different household items that include polymers."
The high school students also met with internationally renowned polymer scientist Dr. Craig Hawker, director of the Materials Research Laboratory and professor at the University of California-Santa Barbara, who discussed his research and career possibilities for them in science and engineering. Hawker was on campus to present for the university's Bayer Lectureship Series
"This kind of experience really helps our students realize what different career opportunities are available to them with a college degree in science, careers they might not have considered otherwise," said FCAHS teacher Thelma Ratliff. "It's also been great to have these graduate students come to our classroom each week. They're a valuable learning resource."