Center at Southern Miss Advancing High School Entrepreneurship Education
Tue, 11/09/2010 - 12:07pm | By: James B. Wilcox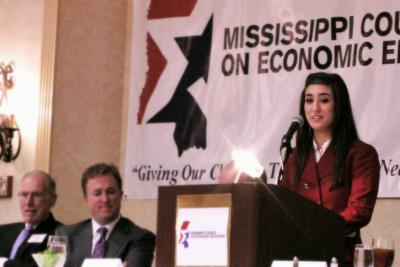 Petal High senior Nicolet Hopper delivers her presentation during the U.S. Sen. Thad Cochran Forum on American Enterprise Nov. 2 in Jackson. (Submitted photo)
Petal High School senior Nicolet Hopper has already learned one important lesson about succeeding as an entrepreneur – hire the right people.
Hopper, a second-year student in the Southern Entrepreneurship Program (SEP) at The University of Southern Mississippi, was a featured presenter at the seventh Annual U.S. Sen. Thad Cochran Forum on American Enterprise held Nov. 2 at the Jackson Marriott.
More than 600 educators, business men and women, and government officials attended the forum hosted by the Mississippi Council on Economic Education (MCEE) to honor Cochran and recognize statewide efforts being made to improve K-12 education in financial literacy, economics, and entrepreneurship.
Hopper's presentation included a discussion about the benefits that she has obtained through her participation in SEP. Emphasis was placed on her successful start-up business and associated revenues and the overall importance of entrepreneurship education in Mississippi schools.
Quipping about the ideals of entrepreneurism, Hopper stated that personal skills and interests could be used to make money, whether or not those skills and interests are one's own. "Hire someone who has them," she said, noting the employability of skill sets vital to starting and operating a successful business.
Following her impressive display of young professionalism, event moderator Sid Salter, a columnist with The Clarion-Ledger newspaper in Jackson, issued a tongue-in-cheek warning to the business and government officials in attendance. "Look out, Nicolet is coming," he said.
The Southern Entrepreneurship Program is operated within The Center for Economic and Entrepreneurship Education (CEEE) and is housed within the Department of Economic and Workforce Development at The University of Southern Mississippi. The Center, affiliated with the Mississippi Council on Economic Education and the national Council for Economic Education, also houses the Master Teacher of Economics program, the Master Teacher of Entrepreneurship program, and the Stock Market Game program.
CEEE works with schools in Mississippi to promote economics and entrepreneurship education. For more information on CEEE and its educational programs, contact Dr. Brent Hales by emailing brent.halesFREEMississippi, calling 601- 266-6519, or visiting the website at http://www.theSEP.org.