College of Business Unveils New Center for Academic Success & Excellence
Wed, 09/22/2010 - 10:12am | By: Van Arnold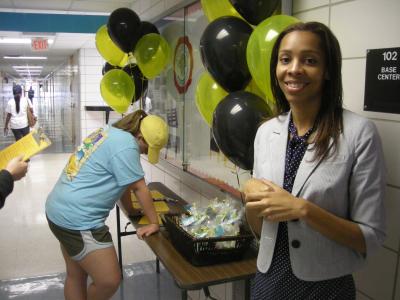 Student Success Coordinator Latandra Cowan assists students during the official opening of the Business Academic Success & Excellence (BASE) Center at The University of Southern Mississippi. (Photo by Van Arnold)
One simple survey conducted by the College of Business at The University of Southern Mississippi has led to a significant enhancement within the department.
In response to concerns about potential roadblocks to student achievement on campus, the College of Business unveiled the Business Academic Success & Excellence (BASE) Center earlier this month. Located on the first floor of Joseph Greene Hall, the center includes private study rooms, larger group accommodations, staff counselors and the use of office equipment.
"We were concerned when we spoke to current and former students who had experienced frustrations with having to make multiple trips around campus to resolve simple issues ranging from scheduling to financial aid," said Dr. Lance Nail, dean of the College of Business. "The other weakness we identified was a shortage of group interaction space and support for assignments requiring written or oral communications.
"With this new center we have established a turn-key single point of contact for students to resolve their simple non-academic problems. We expect it to have a tremendous positive impact on our students' success."
Much of the credit for the center's opening goes to the diligent efforts of Latandra Cowan, Danielle Clark and Brandy Cooley, who serve as student success coordinators in the BASE Center. The trio worked many hours swapping out furniture, painting walls and cleaning from top to bottom.
Cowan sees tremendous potential with the center which provides unique services catered especially to the needs of business students.
"I know that one of the problems students face on a large campus is that they sometimes feel like they get lost in the shuffle," said Cowan. "With a center like this in place we can do a better job of making sure that students are not overlooked."
Brett Williams, a junior marketing major from Seminary, Miss., said the importance of having resources such as the new academic center should not be underestimated.
"It's such a neat thing to have something like this strictly for business majors," said Williams. "I can see myself definitely taking advantage of the quiet time to study as well as the opportunity to study with other business students. I have to believe that grades will go up by having something like this available."
The center is open Monday through Thursday from 7 a.m.-9 p.m. and Friday from 7 a.m.-5 p.m. For more information call 601-266.4569.