Creative Marketing Class Works with Historic Downtown Association
Thu, 12/02/2010 - 11:17am | By: Van Arnold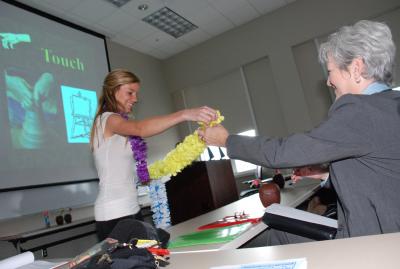 University of Southern Mississippi student Anna Katherine Pickett hands a lei to Betsy Rowell, executive director of the Historic Hattiesburg Downtown Association, as part of a creative marketing class presentation. (Office of University Communications photo by Steve Rouse)
Could downtown Hattiesburg become a veritable Margaritaville?
A group of creative marketing students at The University of Southern Mississippi certainly think so and pitched that very idea to Historic Hattiesburg Downtown Association Executive Director Betsy Rowell recently. Rowell served as the "client" while 11 teams of Southern Miss students delivered presentations designed to rejuvenate and invigorate downtown Hattiesburg.
"You know, what impressed me was that every single presentation contained bits and pieces of ideas that I found very useful," said Rowell. "You can tell that the students really did their homework and research on the downtown area. It's wonderful to see college students take an interest in such an important part of the Hattiesburg community."
A total of 36 students comprised the 11 teams in assistant professor Jamye Foster's Creative Marketing 322 class. Each group worked on the case during the entire fall semester. Foster noted that the class requires students to learn how to use both creative and critical thinking to assess marketing problems, determine potential solutions and select and strengthen the final solution.
Foster pitched the notion of her creative marketing students assisting the downtown association to Rowell, who enthusiastically agreed to hear their presentations.
""It's nice to work with non-profit organizations that don't typically have money in the budget to hire consultants," said Foster. "The student groups act as free consultants. The clients get fresh new eyes tackling their marketing problems and the students get to work with a real client which is a great experience that they can add to their resumes."
The Jimmys Solution – comprised of seniors Austin Collins, Christin Williamson and Anna Katherine Pickett – came up with the Margaritaville-themed presentation with a nod to singer/songwriter and Southern Miss alumnus Jimmy Buffett. The group's plan called for more emphasis on the five senses – sight, sound, smell, taste and touch – by creating a downtown ambience laced with vibrant colors, constant music and distinct aromas.
"Our thought was to find a way to capitalize on the fact that Southern Miss has a famous alumnus like Jimmy Buffett," said Collins, a public relations major from Pass Christian, Miss. "We wanted to bring all of the images associated with Margaritaville and reproduce them in downtown Hattiesburg. We believe that, in doing so, more young people would be attracted to that part of town."
Williamson grew up in Petal, just across the Leaf River from Hattiesburg, and could not wait to tackle the prospect of developing a presentation for downtown revitalization.
"Being from around here I already had a pretty good insight into what downtown Hattiesburg is and how important it has always been to this area," said Williamson. "I hope some of the ideas our group and the others came up with might actually be used to help make downtown Hattiesburg bigger and better than ever."