Duckworth Wins Miss University of Southern Mississippi Pageant
Tue, 10/26/2010 - 11:33am | By: David Tisdale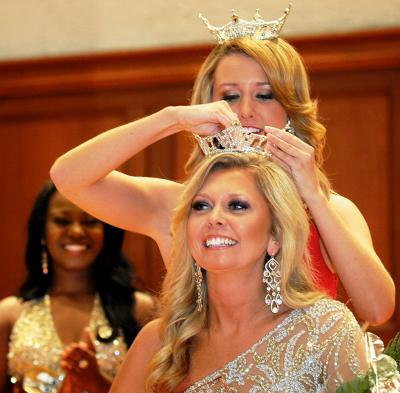 Jill Duckworth, of Clinton, Miss., is the new Miss University of Southern Mississippi. (Submitted photo)
Jill Duckworth sang 'Love is Where You Find It" for the talent competition at The Miss University of Southern Mississippi Pageant Saturday.
The pageant judges obviously loved Duckworth, awarding the senior communications studies major from Clinton the pageant title which comes with a $1,500 scholarship and opportunity to compete in the Miss Mississippi Pageant June 29-July 2, 2011 in Vicksburg.
"It's surreal to think you're representing the whole university," Duckworth said of winning the title. "I'm really grateful for the opportunity. As a senior, it's my last chance to give back to the university and leave it better than I found it."
At Southern Miss, Duckworth is a member of Kappa Delta sorority, served with Southern Style in 2009 and on last year's homecoming court as junior maid, and works in the admissions office assisting with campus tours.
Duckworth knew she wanted to be part of the Southern Miss experience after coming to campus with her family to watch the Golden Eagles football team play. "I always knew I wanted to come to school here," she said.
She plans to use her celebrity to advance her platform of diabetes education and awareness, inspired by the challenges her father has faced as a type 1 diabetic since age 11.
"Jill is a talented young woman who has excelled in and out of the classroom and contributed significantly to campus life," said Southern Miss Associate Dean of Students Brooks Moore, who assists in coordination of the pageant along with the Student Government Association (SGA).
"I know she will be an outstanding representative of the university in her role as Miss University of Southern Mississippi and a positive role model for young women."