Extra Funds Needed to Complete Home for Southern Miss Employee
Tue, 11/02/2010 - 13:43pm | By: Van Arnold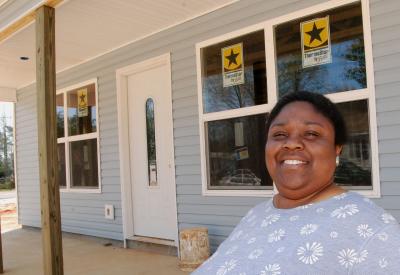 Southern Miss employee Melissa Carpenter stands on the front porch of the home being built for her by the Hattiesburg Area Habitat for Humanity. (Photo by Steve Rouse).
Melissa Carpenter's longtime dream of owning her own home is still just that – for the time being.
All the separates Carpenter, a secretary in the Office of Student Activities at The University of Southern Mississippi, from moving into her Habitat for Humanity home is approximately $9,000 worth of construction. Carpenter remains optimistic that she will one day turn the key to her new home in the Celeste Place subdivision.
"All I can do is continue to pray, raise funds and see what God has in store for me," said Carpenter. "I am sure that one day I will move into No. 3 Grace Court and become a homeowner."
After meeting all eligibility requirements established by the Hattiesburg Area Habitat for Humanity, construction began on Carpenter's home in early March. However, contributions used to begin the process have since been exhausted and volunteer hours have dwindled as well.
Andrea Dixon, executive director of the Hattiesburg Area Habitat for Humanity, said her office was awaiting word on several grant applications that could help defray the final costs of finishing Carpenter's home. But she acknowledges that donations and volunteer support from private donors would certainly facilitate the home's completion.
Some of the work left to be done includes: mud sheetrock, interior doors, paint, electrical wiring, brick around the foundation, plumbing, insulate the attic, driveway, cabinets and baseboards.
"If anybody deserves to be in a new home, it's Melissa," said Dixon. "We're doing everything we can to make it happen for her before the holidays. But we could certainly use some more help."
To offer assistance with Carpenter's home or learn more about Habitat for Humanity call 601.582.4663.