Freedom Summer Photo Exhibit on Display at Cook Library Gallery
Fri, 10/15/2010 - 14:22pm | By: David Tisdale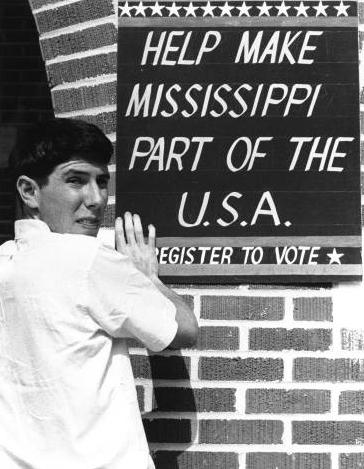 A selection from the photo exhibit "Hattiesburg Remembers Freedom Summer of 1964" currently on display in The University of Southern Mississippi's Cook Library, featuring the work of Herbert Randall. (Submitted photo)
A selection of photos from the Civil Rights Movement's Freedom Summer initiatives in Hattiesburg make up an exhibit currently on display at The University of Southern Mississippi's Cook Library gallery.
Titled "Hattiesburg Remembers Freedom Summer of 1964" the exhibit features the work of renowned photographer Herbert Randall. He captured images of the Freedom Summer movement in Hattiesburg in 1964 Among the photos depicted are voter registration canvassing, Freedom Schools, the Free Southern Theatre and a picnic at the home of the late civil rights leader Vernon Dahmer.
Randall's Civil Rights Movement photos were used widely by national and international media during that time, and are now part of the permanent collections of the Metropolitan Museum of Art, the New York Public Library and the Library of Congress.
This exhibit, sponsored by VISITHATTIESBURG and Southern Miss Libraries, is free and open to the public Monday through Thursday from 7:30 a.m. to 2 a.m.; Fridays from 7:30 a.m. to 6 p.m.; Saturdays from 9 a.m. to 6 p.m. and Sundays from noon - 2 a.m. For more information, call 601.266.4241.